The secret to successful careers at Atom bank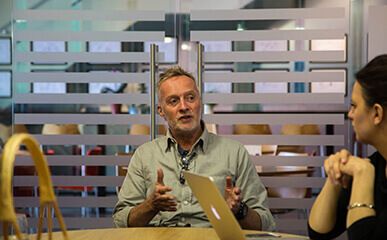 The secret to successful careers at Atom bank
Think having a top job you love is just about starting at the lowest rung and clambering up? Think again. At Atom the ladder doesn't exist. Discover the advice from our Atom experts to help you create a rewarding career path
Your employment journey is formed one step at a time. But that step doesn't always have to be directly forward. At Atom bank we move in more ways than just up; something we learnt during our Breakfast Career Talks.
Talk the Talk
Members of our team have been talking frankly and openly about their careers over coffee and croissants with folks from all over the Atom family. They share an honest history of their CV, including how and why they came to Atom.
What started as just a couple of sessions with members of our Executive Committee proved so popular we expanded them to include other hosts – including heads of departments and subject matter experts.
Although the speakers all work at Atom bank, we discovered that what differs enormously are the paths, detours, experiences, choices and opportunities they've taken to get here.
Genuine and frank
They've been refreshingly honest about how tough it can be to make wise decisions. We've heard about the challenges of owning your own company, bouncing back when your dream collapses, finding mentors in all shapes and guises – and even being wrongly arrested in an airport for allegedly smuggling drugs on a work trip.
In true Atom style, we're sharing the highlights of the advice we received from our Breakfast Career Talks, to help you make choices about your career. And remember, whether you're 21 or 61, it's never too late to change, or re-route your job journey.