Transforming banking for small businesses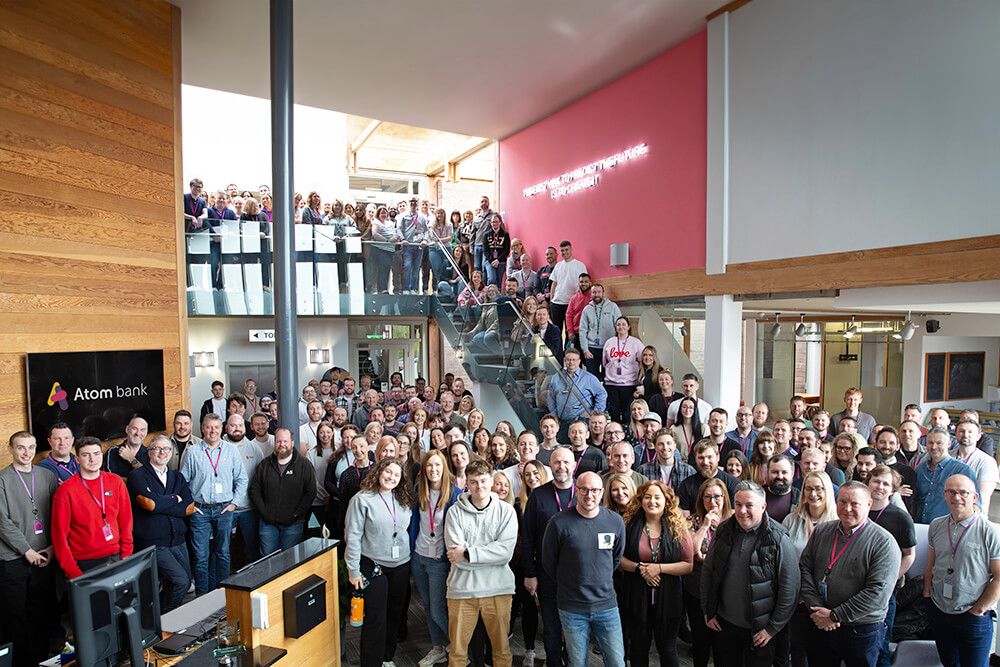 It was announced last week that we have been awarded a £10m grant from the BCR Alternative Remedies Package. With the grant, Atom is committed to bringing innovative 'Smart Lending' products to market, building a complementary digital toolkit and enhancing the financial wellbeing of small businesses.
To tell us more about the grant and what we're going to use the money for, we had a catch up with our Business Banking Proposition Manager, Tom Renwick.
What is the BCR grant
After months of hard work behind the scenes, we found out last week that we have been successful in our application - winning £10m, which we are going to put to use bringing much needed competition to the SME lending market!
The grant comes from a £775m fund known as the 'Alternative Remedies Package', related to the conditions attached to the £45bn Government bailout of RBS during the 2008 financial crisis. The fund is designed to support the development of innovation and competition within the business banking market.
An independent body, Banking Competition Remedies (BCR), was set up to distribute the funds by encouraging applicants to improve their capability to compete in the provision of banking services to small businesses.
How are we going to use the money
We've been sitting down with business banking customers to build an understanding of their motivations and desired outcomes - and we found that the market is failing small businesses. Traditional banks have retreated from the segment: small businesses feel unloved, stressed about their finances and unable to access lending to help them reach their potential. Small businesses across the UK deserve better!
We will use the award to address overlooked customer needs, deliver change and innovation and drive economic growth by supporting the bedrock of the UK economy – small businesses. Atom will combine data, lending and savings into a single coherent proposition to provide them with the confidence to focus on growth.
Data
Running a business is like riding a rollercoaster, the team here at Atom experiences those thrills and scares everyday. We believe everyone - and not just large businesses - should be entitled to a financial co-pilot.
We will launch a real-time cash flow monitor and long-range financial health tool. Powered by machine learning, it will help small businesses to monitor their finances, anticipate shortfalls or surpluses in cash flow and provide meaningful and actionable insights to help drive efficiency and profitability.
Lending
Today, the majority of financial services products are designed either for personal customers or for larger, more sophisticated, corporate customers. We recognise that the needs of smaller businesses are distinct and different from those of larger companies.
That's why at the core of our plans are Smart Lending products designed specifically with and for small businesses. These lending products are underpinned by Atom's unique smart contract technology and machine learning capabilities. Our products will respond to the data and behaviour of small businesses in order to better anticipate their financing needs and deliver informed and responsible lending solutions.
Savings
We know that many small businesses struggle to build a safety net of savings for when things, as they always do, take an unexpected turn. For those businesses that are managing to save - they aren't being rewarded - with £117bn of cash sat in non-interest-earning accounts in the UK.
We believe there is a better way. Atom will offer savings products with competitive interest rates that integrate with cash flow forecasts to help insulate against any bumps in the road and maximise returns.
What else will this grant allow us to do
We will contribute an additional £15m of funding ourselves in support of the £10m BCR grant, to ensure its success. This investment will create 55 highly-skilled jobs and a further 15 graduate and apprentice roles in our Durham home.
In total, we've made eight public commitments which you can view here. We will be posting quarterly updates against those commitments on our website so you can keep track of our progress.
What does winning this grant mean to us? And what's next
Atom has already disrupted the mortgage and personal savings markets and we are now determined to bring our industry-leading customer service to more small businesses.
We are absolutely thrilled with the award, excited to start building and determined to deliver to our vision - providing the financing, tools and support to drive business growth. The hard work now begins in earnest.
But we know we can't do it alone. We want to build experiences and technology in a way that is responsive to the needs of small businesses. So over the coming months we will be reaching out to business owners with exciting ways to get involved.
And if you would like to join us on our journey to transform business banking - keep an eye peeled on our vacancies over the next few weeks!