DOWNLOAD THE ATOM BANK APP
You'll find so much to love about our savings and mortgage products. And it all starts when you download the Atom app, which is at the heart of everything we do.
How to get started with the Atom bank app
Download the app
Head to your app store on your device or scan the QR code above to download the Atom bank app.
Sign up
Register with us and use your face, voice and a passcode to set up your security.
Start saving
Choose one of our savings products, or get a code to start tracking your mortgage, and you're ready to go!
What is the Atom bank app?
In a nutshell, the Atom app is the only place you can access our great range of products and services.
Whether you need a savings app to get your money working harder or a mortgage app where you can track your Atom mortgage, you'll find it here.
It can be installed on most recent iOS and Android devices, so you can start banking with us quickly and easily.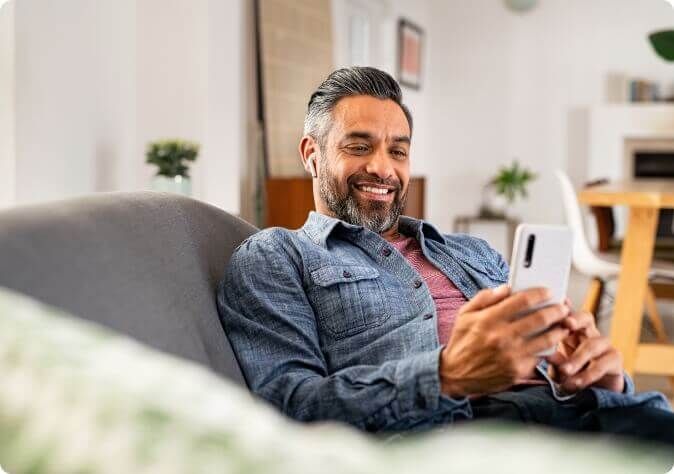 Why choose an app-based bank?
There are a number of benefits to banking with the Atom app.
No high street branches
We're an online bank, so we don't have branches. This means we have lower emissions and operational overheads than most other banks.
No paper statements
Everything you need is in the Atom app, so there's no need for you to keep hold of paper-wasting statements.
No need to log in to a website
You can manage your money from our mobile banking app, so there's no need to log in to clunky websites.
You can bank anywhere
No matter where you go, you can log into our app and check in on your account on your device.
Access accounts and statements anytime
Fancy a spot of late night banking? No worries. Just log onto the Atom bank app and do your thing.
Our app security keeps your money safe
Whether you use your device security, Atom biometrics or a passcode to log in, our banking app will keep your money safe.
Access to award winning customer service
Speak to our award-winning customer service team from 8am–8pm, Monday–Friday, through app chat, phone or email.
FSCS protection
You're protected by the Financial Services Compensation Scheme (FSCS) protection up to £85,000.
Our app is well supported
The Atom app is easy to use and intuitive, and we're always looking for new ways to improve it, as well as providing key security updates.
Live, unfiltered feedback from our customers
See what our customers have to say about our banking app.
Time to explore the Atom app
If you like what you see, then check out our app. Secure a great rate for your savings or simply and securely manage your mortgage.