Money worries
We all worry about money, in fact it's one of life's biggest concerns. But when your finances begin to impact your life you need to seek support. Atom is here to help you face any money worries you have head on. But the first step starts with you contacting us.
Let's talk
We understand how a change in circumstance can impact finances. We also appreciate how helpless it can make you feel. But allowing that worry to spiral out of control isn't the answer.
As soon as you feel that you need help contact us via your app or by calling 0333 399 0050. We can support you in a number of different ways, depending on your situation. The key to creating a solution is understanding your wider finances. And whilst you may feel uncomfortable sharing that information, we'll always be sensitive to your situation, and be open and honest with you.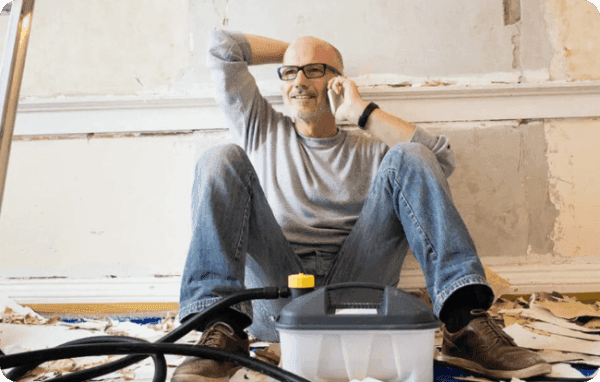 The simple steps to support
Before the call
Sometimes it's not easy talking about finances, but please be prepared to. The more you can share about your situation, the more we can do to help. It would be great if you could have your income details and a breakdown of your average monthly spending handy too.
If you're a mortgage customer we need you to complete an online income and expenditure (I&E) assessment. To help you do that we've partnered iehub.co.uk. The IE Hub is a free, secure online portal that makes it really easy for you to share information about your income and outgoings with us. It's straightforward, completely secure and very simple to use:
Create a free account with IE Hub at iehub.co.uk
Follow the instructions to complete your I&E assessment
Grant us access to your information by selecting to share with 'Atom bank' from the list of companies at the end of the assessment. Remember to add your mortgage account number as your reference and click submit.
If you'd prefer to carry out an I&E assessment over the phone you can call us on 0333 399 0050 and we'll take you through it.
We completely understand if you'd like to seek free independent debt advice before contacting us. To help you with this, we've provided a few numbers at the bottom of this page.
Contact Us
Get in touch via your app or by calling our customer support centre on 0333 399 0050. We're here for you 8am - 8pm every day.
During the call we'll chat through your circumstances to better understand why you're having financial difficulties. We'll then review your income, outgoings and debts before exploring a range of solutions. Once we've identified the most appropriate course of action we'll talk you through the next steps. We can also put you in touch with some independent debt organisations that offer free advice should you wish, just let us know during the call.
Ongoing Support
We'll put together a plan, then continue to work with you to help you get your finances in order. The support we offer is ongoing and differs between customers, depending on the individual's circumstances.
Need a bit of Breathing Space?
Breathing Space, also known as the Debt Respite Scheme, is a regulation which gives you time to organise support and advice, and put any arrangements in place that are needed to help with your financial situation. Essentially, during this period of time, any enforcement action and contact from creditors will be paused, and most interest and charges on your debts will be frozen.
There are two types of Breathing Space available:
Standard Breathing Space
Which gives your existing debt with Atom some legal protection for a 60 day period.
Mental Health Crisis Breathing Space
Which is only available to someone who's receiving mental health crisis treatment (i.e. certified by the requisite professional). This has some stronger protections and lasts as long as the person's mental health crisis treatment, plus an additional 30 days (no matter how long the crisis treatment lasts).
To qualify you must:
Be an individual
Owe a qualifying debt (e.g. mortgage arrears or a loan)
Live or reside in England or Wales
Not have a debt relief order (DRO) or an individual voluntary arrangement (IVA) in place
Individuals are restricted to entering into one Standard Breathing Space arrangement in a rolling 12 months and a Mental Health Crisis Breathing Space cannot be entered into at the same time.
The debt advisor can provide a detailed overview of the scheme including all qualifying criteria and associated benefits.
How to arrange Breathing Space
Breathing Space can only be initiated by a debt service provider that's authorised by the Financial Conduct Authority (FCA) to offer debt counselling, or a local authority that provides debt advice to residents. So, if you're having trouble paying your debts, please contact a debt adviser as soon as you can so they can help you come to a decision whether Breathing Space is right for you and act on your behalf, or contact us for further information. You can also use the Money Advice Service Debt Advice Locator tool for where to access free debt advice.
Where Breathing Space is assigned, a notification will be sent to creditors informing them that a debt owed is in Breathing Space, and the application of protections will start from the date the notification is received, or when it's deemed to have been received (i.e. dependent on how the notification is sent/received).
FAQs
You'll find lots of answers to your questions here, but please don't hesitate to call us. Remember, talking over your money worries with us will help take a weight off your mind.
Additional help
As well as discussing things with us, you can also contact the following organisations. They specialise in helping people in financial difficulty and provide free, confidential and independent support and advice. They may also be able to offer you options that we don't. Simply tap on any of the logos below to visit their websites.