Time to Talk: how to discuss and deal with your money worries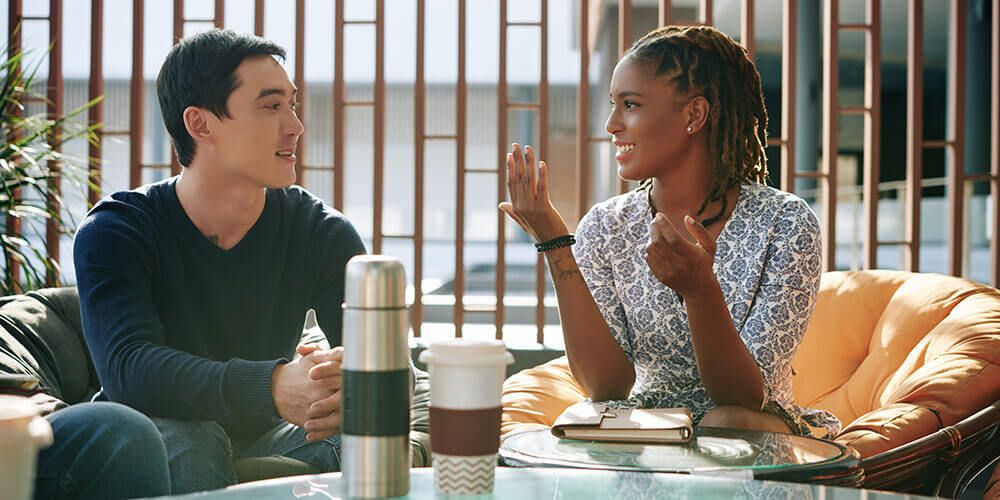 The current cost of living crisis can feel daunting and here at Atom we believe a problem shared is a problem halved. That's why we think it's important to talk about how money affects your mental health and day to day life.
Whether you're down at the pub with a close pal, you have some one-on-one time with a trusted colleague at work or you're catching some fresh air with a loved one, we want to encourage our customers to avoid bottling up their financial fears and start speaking up.
Our new study reveals that 1 in 5 of us are experiencing frequent moments of stress or anxiety due to the cost of living crisis¹. We are committed to helping people navigate these feelings and finding ways to ease their concerns through the power of a good chat.
To get the conversation started, we've teamed up with Richard Lane, Director of External Affairs, at our new partner debt charity, StepChange, who we signpost our customers to in times of need. to help us shed some light on what to do if you regularly find yourself worrying about your finances.
Most common money issues
The cost of everyday essentials
As supermarket costs shoot up due to inflationary pressure, it's no surprise that the cost of everyday essentials is a big concern for many of us right now, alongside paying bills and being able to save. As well as worries about the general cost of day-to-day living expenses, different scenarios can affect different age groups and demographics.
Our research showed that younger people (those aged 18-34) score higher for the majority of the concerns in our study, whereas the cost of everyday essentials is more of a concern for older age groups (65+). For those who are retired and reliant on their pension for income,increases to their everyday spending can be a serious source of worry.
Richard Lane, Director of External Affairs at StepChange Debt Charity, says:
"The cost of living crisis has already taken its toll on millions of people's finances – our latest polling shows 45% of UK adults are struggling to keep up with at least one bill or credit commitment. For many households, the rising cost of food, energy and other essentials is understandably causing worry, particularly for those on the lowest incomes who are struggling to keep up with the pace of inflation that we've seen over the last few months."
Not having enough money for retirement
As you might expect, we found that not having enough money to retire is more of a concern for those closest to retirement age (55-64s). Losing their main source of income is more concerning for those who are 35-44, who could potentially be supporting family members and are more likely to have a mortgage to worry about.
Upcoming special occasions
If you're one of the 28% of people who worry they won't have enough money for upcoming special occasions, it's worth broaching the subject with loved ones, especially as we head toward Christmas. Suggesting alternative festivities such as a walk or scavenger hunt outdoors instead of a costly meal or homemade gifts and joint experiences instead of expensive presents could be a new way to show those close to you that you care this winter without the higher price tag.
Protecting your mental health during the cost of living crisis
Our research shows that the cost of living crisis is causing stress and anxiety for around three-quarters of people in the UK. Again, this varies by age and gender with women significantly more likely to experience regular stress and anxiety than men.
Richard says:
"Money and mental health are intrinsically linked, and mental health issues can be both a cause and a consequence of debt. Being in debt can have a serious impact on someone's life beyond the financial implications, and can increase their risk of experiencing issues such as stress, anxiety or depression. At the same time, people experiencing mental health problems may find it more difficult to manage their financial affairs.
"If you're struggling with debt and your mental health, you're not alone. While it can be difficult to open up and admit that you're finding things hard, it's the first step in getting back on track. StepChange's research looking at client outcomes found that three months after debt advice, two-thirds of clients (67%) said they worried less about their debts than they did before receiving advice from the charity."
Those who are younger also have more regular concerns over money than other age groups. Gen Z cites the economic climate as having an impact on their mental health, with over a quarter (28%) of those who are 18-24 experiencing frequent moments of stress or anxiety as a result of the cost of living crisis.
At Atom, we believe nobody should suffer in silence. If you've seen your mental health take a hit due to the current economic climate, we want you to know that there are options available to help improve your circumstances.
Who to talk to if you're worried about money
The worst thing you can do is bottle your fears up, and it's important to remember that there are lots of people you can talk to if you have money worries. Our research showed that, while some people feel comfortable talking to friends and family about their financial struggles, for others, opening up can be a daunting prospect.
We found that women are more likely to confide in people close to them - such as family members or their partner - about money worries, whilst men are more likely to reach out to their bank or HR department for support.
Richard explains why it's important to talk about your financial worries:
"Very often people don't feel like they are able to speak up about debt or money worries, due to feelings of stigma or embarrassment, however, talking to someone you trust or reaching out to a reputable debt advice organisation can bring a huge sense of relief, and be the most important step in getting your life and finances back on track.
"Getting into problem debt can have a significant impact on someone's life beyond the financial implications. It can increase a person's risk of experiencing mental health problems, and can have a knock-on effect on someone's relationship or family. Because of the stigma that exists around debt, many people wait a long time before talking to someone about their financial problems.
"Research both from charities and from the financial regulator, the Financial Conduct Authority, suggests people don't always know where to turn if they are experiencing debt, and feelings of shame or embarrassment too often cause them to wait a significant amount of time before getting help. StepChange research shows that 55% of its clients waited more than a year before seeking help with their debt, and 92% wish they'd got help sooner.
"Not only can debt escalate the longer it's left, but it can have a detrimental impact on someone's mental and physical health, and many StepChange clients report feeling much less anxious and finally getting a good night's sleep after speaking to a debt advisor."
Can I talk to my bank for support?
With only a quarter of us turning to our bank for support, we'd like to remind our customers that we're here for you no matter your situation. Our number one priority is making sure our customers have an exceptional experience with us and are well looked after and supported in times of need.
All our staff members are trained in accordance with regulations and guidance from the FCA and our customer support team undergoes a thorough seven-week training programme so they know what to do when they spot the signs of someone struggling.
All our customer support agents are sensitive to your situation and if you don't need support right now, we'll make a note of it so you're dealing with the same person if your issue develops or rises again in the future.
How we're supporting customers
At Atom, we want to be as proactive as possible in helping our customers who may be facing money issues. That means that, as well as helping those who contact us directly, we focus first on identifying customers who may be suffering from financial stress and reaching out to see if things are OK. While most customers we speak to are fine, we think that reaching out to someone who may be facing money worries is an important first step in ensuring they get help early.
For mortgage customers who may be worried about their re-payments, we have a number of options and partners available who can help. We can firstly undertake an income and expenditure (I&E) assessment. This allows us to understand someone's wider finances, and while people may feel uncomfortable sharing this information, it means we can make better recommendations on how to help. While we can handle this on someone's behalf, customers in need of help can also access the IE Hub to complete a detailed I&E themselves. They can then share this with us if they need further support or simply use it to help budget.
For customers going through a rough patch, or who find themselves with a reduced income, there are a variety of things we can do to alleviate stress and help you get back on track. We can also signpost people to our partnering debt charities like Stepchange or Payplan. Customers can speak to them directly and with our digital journey we can even complete a form on their behalf to make the process as simple and stress-free as possible.
If you are worried about the rising cost of living, and how you will meet financial commitments, our partner StepChange can help with free and impartial debt advice, whether or not you are currently experiencing problem debt. Visit their cost of living hub for more information or reach out to their 24/7 helpline for further advice and guidance.
Feeling like your financial situation is getting you down? Maybe it's time for you to talk. Reach out to us by visiting https://www.atombank.co.uk/help/money-worries/ or calling 0333 399 0050.
References
¹Research carried out by Walnut Unlimited on behalf of Atom bank, further details available on request.