EY Foundation Smart Futures interns visit Atom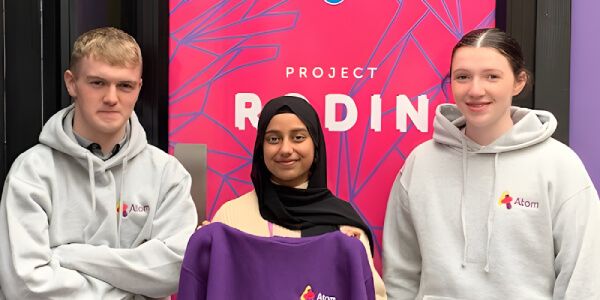 Recently, we welcomed students as part of the EY Foundation Smart Futures Chartered Banker Institute Easter Internship. The scheme gives students from low income households the chance to get experience and insight into a career in banking.
Hanifah Khatun, Jake Thompson and Emily Rodgers joined us for three days from Durham Sixth Form Centre.
What did the internship cover?
In the first week, the students spent time developing their employability skills. The EY Foundation delivered a programme that included mock interviews, CV skills, goal setting and group projects.
Week two focused on the Chartered Banker Institute Foundation Certificate in Responsible Banking. Students also spent time onsite at our Rivergreen Centre HQ in Durham.
What did the students get up to at Atom?
During their time with us, the students spent time with our teams to learn first hand about the careers a bank like Atom can offer. They also worked on a project to present back at the end of the two-week internship.
The interns will also have monthly mentoring sessions with senior team members from Atom for up to a year.
Edward Twiddy, Atom's Director of ESG and Exco sponsor, said: "I want to say a huge thank you to everyone who was involved with the sixth formers from Durham Sixth Form Centre (DSFS) that spent the last week with us as part of their two weeks of work experience with Atom and the EY Foundation.
"Particular thanks must go to Ellie Hutchinson for all the effort that went into making this happen so smoothly and with such impact. This was the first time that we have worked with DSFC, and with the continued help of the business, Ellie and I are committed to making sure that we continue to build this relationship.
"The students there come from all over the county, and it was a particular delight to have been able to support students from low income backgrounds to get some really high quality experience through our partnership with the EY Foundation.
"The students who spent time with us gave some very positive feedback on their experience, and went on to do fantastically well in the assessment at the end of the two week internship."
Ellie Hutchinson, Operational Risk and Resilience Manager, said: "At the end of the graduation ceremony, Jake was part of the winning 'Dragon's Den' project team and Emily was awarded the 'Rising Star' award.
"Both awards were voted for by the EY Foundation and banking professionals involved in this internship, with Emily beating the other 28 interns on the course. This is a fantastic outcome and shows the potential of our interns."