We're moving to a four-day working week — here's why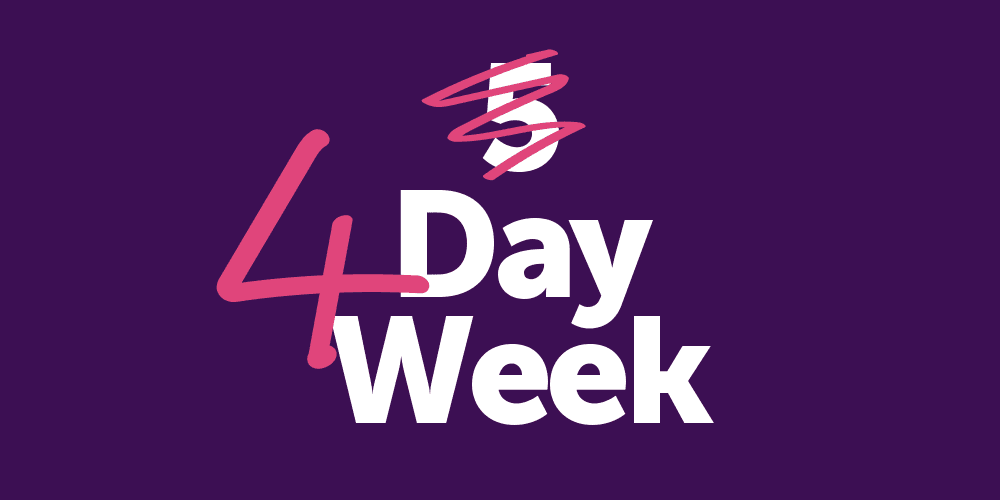 We're moving to a four-day working week — here's why
Life has changed a lot, and we've decided to re-examine how we work while maintaining our award-winning services and experience for all of our customers.
We're excited to announce that, starting from 1st November, we began a trial of a four-day working week. We'll be testing our work practices over the next few months, as well as continually evaluating our new ways of working into 2022.
Our team will be working a shortened 34-hour week over four days, with no impact on their salary. This is optional, and anyone can choose to opt out and continue to work a five-day week if they wish. We believe this will bring great benefit to our business, our people and, ultimately, our customers. As the largest company to introduce a four-day week for everyone, and one of the first to make this move, we're determined to make this a success and challenge traditional and antiquated working practices.
Atom, like every business, is made by the people who work here. We believe we've made the investments that allow our team to enjoy a better work-life balance, leaving them happier and healthier in the long run, without compromising on our responsibilities to our customers, partners and each other.
Why are we moving to a four-day week?
To put it simply, we recognise that work as we know it has changed, and the patterns that served us in the past may no longer be the right fit. People are looking for something more from their roles, work practices have changed and we believe that switching to a four-day working week can deliver a variety of benefits that have the potential to be life-changing for our team.
Here are just a few of the benefits that we hope a four-day week will deliver:
An improved work-life balance
It's said that absence makes the heart grow fonder, but the past two years have taught us how important it is that we're able to spend quality time with our loved ones. On top of this, the extra stress brought on by working through a pandemic has forced many of us to re-evaluate the relationship between our jobs and our personal lives.
A four-day week can help us achieve a better work-life balance, where our people have more time to focus on their home lives but still remain productive in their roles. This benefit is backed up by research: from 2015 to 2019, Icelandic companies trialled shorter weeks, with many workers reporting their work-life balance improved and that they had more time to spend with family, on hobbies and doing chores (Autonomy).
A greater focus on health and wellbeing
If we want to be the best business we can be, we need our people to feel the same about themselves. We've already mentioned giving our team a better work-life balance, but we want them to feel happier and healthier in the long run as well. It's our hope that by dropping down to four days, we will give everyone the time they need to care for their own physical and mental wellbeing.
Research has found that a four-day week can be great for mental health. 1 in 7 Britons believe that the UK would be a generally happier place if we worked four days (YouGov). The majority of people would be pleased to have the time off to do things they enjoy, like seeing family or a hobby, all of which can be nourishing for mental health. It also stands to reason that with more free time and time spent away from computer screens, people would be able to get more exercise or at least not spend as long sitting down.
A reduced environmental impact
At Atom bank, we've always looked for ways to reduce our environmental impact and keep our carbon footprint low, whether that's situating ourselves in a green office space or by following an app-based business model that removes the need for high street branches. And now we believe a four-day working week will help us reduce our impact further.
Stop the Clock, a 2021 study by environmental organisation Platform London, found that if the UK switched to a four-day week by 2025, we could reduce our emissions by 127m tonnes, a reduction of more than 20%. It also recommended the step as an effective way to tackle climate change. Eco-benefits can also be tangible: in 2019, Microsoft Japan trialled a four-day week and saw electricity use drop 23% and paper usage fall 59%. The carbon footprint of running our office fell nearly 60% during lockdown - we don't want to replicate that period of time but it told us a lot about how we can make life and work more sustainable.
An increase in efficiency and productivity
Atom bank is a business that's built on efficiency — it's exactly what allows us to be more agile and customer-focused than traditional banks. So, naturally, we're always excited to try new ways of doing things if it will help us become even more efficient.
Switching to a four-day week has not just been a case of giving everyone an extra day off; it's been an exercise in reviewing how we operate and deciding what's really necessary. It's a bit like packing light when you're used to bringing a whole suitcase — with a bit of thought, you can still enjoy all your essentials while leaving the extras at home, whether those are unnecessary meetings or overlong procedures.
That same set of studies from Iceland we mentioned earlier also found that companies that switched from a five-day to a four-day week experienced the same or higher levels of productivity — something we hope to tap into here at Atom bank. Workers were a lot more focused and able to complete their job in a shorter time frame with no issues.
Like the sound of working a four-day week?
If you've read this blog post and are excited by the prospect of a four-day working week, then we've got some great news! We're recruiting in a wide range of positions across the business, so there's a very good chance that there's a role there to suit you.
Head over to our careers page to browse our vacancies and submit your application.