How to talk to your partner about buying a house together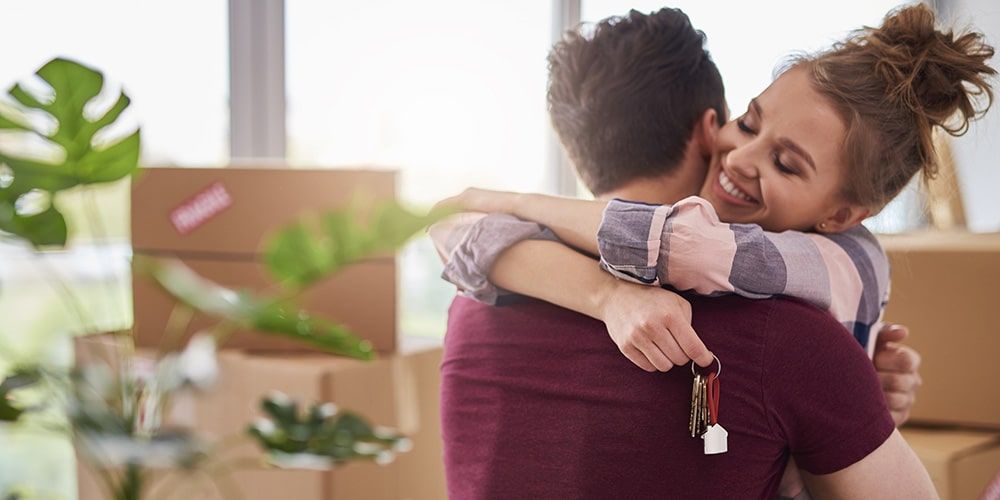 Buying a house with a partner is a big step, but it's often one that's worth taking. It's a great feeling to finally be settling down with a loved one, and, once the process is complete, you'll both have somewhere to call home.
However, while we don't want to cast a shadow over your sunny moment, it's vital that you have serious, in-depth discussions with your partner before going ahead with such a life-changing decision. Being clear about what you both want will stand you in much better stead both now and in the future.
To help you have that all important conversation, we've rounded up five things that you need to consider before buying together.
Approach the conversation realistically
Buying a home together is likely to be the biggest transaction you've both committed to so far in your life. That's why you should make sure that both you and your partner have the same ideas of what you want from the future.
The wider conversation should, of course, include looking for that perfect home and applying for the right mortgage, but it may be beneficial to talk about your relationship to ensure that your life expectations are aligned. Such a large commitment requires a big conversation, so it's vital that you're realistic and don't get swept up in the moment.
Share your finances with each other
After you've had the big conversation about your life direction, it's time to share your finances with each other, if you haven't already. It's another key moment in finding out where you stand as a couple before entering the home buying process.
You'll need to get an idea of your ceiling price. To do this, you will have to talk about a budget based on what you can both afford together and agree on a figure. Be sure to discuss topics like any outstanding debts, concerns with credit scores, what level of savings you both have, retirement goal and how much you earn.
Try to be as open as possible with each other about your finances. When you are buying a home, there's no room for hiding issues away. Have an open and honest conversation — it's the only way you can accurately discover how much your budget will be.
You may also find some benefit in discussing what lies further down the road, whether that's buying a car, taking the holiday of a lifetime or starting a family. Come up with a five-year plan to take into account any major expenses that may impact your ability to pay back your mortgage if you're budgeting for both in the future.
Think about how you'd like to split repayments
There are many upfront and ongoing costs to buying a home, ranging from deposit payments and solicitors fees to utilities and council tax. And, while it may be right for you both to split these right down the middle, it might not be the right fit.
You'll need to make some considerations, such as who earns more or who is currently paying off their debts, as these may well impact how you choose to split up how you are going to repay. Have these conversations early and iron them out at the start.
If you do need to come up with a more complex proportional split of repayments, you should detail how each of your individual shares will work in a legal document before going ahead with any home purchase. This will ensure that it's set out what each of you will be entitled to in the event of any future split.
Take the time to talk about this and make sure you're both happy with the agreement upfront. This way, you can make sure that no-one is feeling pressured to overstretch to pay off more than they can comfortably afford.
Consider what type of deal is right for you both
Here in the UK, there are two types of co-homeownership: joint tenancy or "tenants in common" — it's important to discuss the pros and cons of each arrangement before you choose one and agree to move forward.
With a joint tenancy, you will both own the whole of the property, while a "tenants in common" arrangement allows both parties to own a proportionate share. Take the time to decide which one is right for you, then make a record of the agreement in writing, noting any unequal share percentages to protect the investment. We recommend that you seek independent legal advice to determine what is the most appropriate basis of ownership for your property purchase.
Discuss what happens in the event of a break up
Though we're not trying to be cynical, it's important to be realistic about the future of your relationship: life doesn't always turn out as planned, so putting in the work now will save you lots of heartache in the event of a break up with your partner. After all, the last thing you want at a difficult time is to be wrangling over your property.
Things are clear cut if you're in a joint tenancy agreement, as you should each receive 50% of any property sale by default. Being tenants in common can be more complex, so it may be worth setting up a Deed of Trust with a solicitor, which is an agreement that defines exactly what will happen to your shared property asset if you break up.
It may not be something you feel you need to consider right now, but doing the legwork now allows you to add clarity and security to the huge investment you're both making.