International Women's Day 2022: Team Atom answer some of the big questions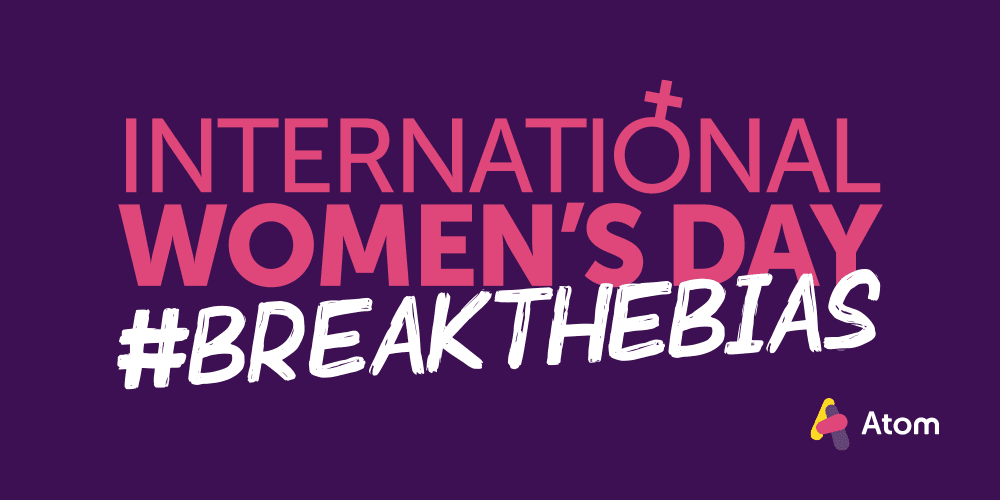 International Women's Day is an important event in highlighting bias, stereotypes and discrimination, as well as stimulating conversations about how we can push the issue of women's equality forward.
Here at Atom bank, we have many exceptional women at all levels who make a huge contribution to our success, including a number who are part of the leadership team. To mark IDW 2022, we put a number of key questions to these leaders on topics ranging from STEM subjects and fintech to influencing others and support within our bank.
Read on to find out what they had to say.
Clare Framrose — Head of Props Design, Saving and Banking
How do you lead with authenticity and inspire other women?
I have discovered that as a woman in a leadership role, one of the most important things I can do is trust my instincts and act with integrity. We are often told we're too emotional, too aggressive, too bossy or too shrill; yet many men who share these traits are described as being passionate, assertive, organised or dominant.
So, I try to inspire others by being proud of who I am and seeing my natural skills — like empathy, creativity and kindness — as strengths.
Rachael McLauchlan — Chief Data Officer
Do you think it's important to encourage more women to study STEM subjects?
As the Chief Data Officer at Atom, it makes me proud that young women (including my daughter) can see there are fulfilling career opportunities for women in STEM subjects. I would love to see more women applying for data science, data science engineering and analytical roles, bringing their skills, views and passion to the table to help solve problems and optimise decision-making.
My favourite aspect of the role is the challenge and the fact it comes with the opportunity to add real data-driven value and insight to the organisation. No two days are ever the same, and Atom supports me in my role by enabling flexible working, highly engaged people and a great culture!
Leanne Judge — Head of Strategy Implementation
Do you have any advice for women wanting to break into fintech?
I'd say lean into the personality traits that you know will add value, even if you're told otherwise. There is much about the female psyche that brings a balance or diversity that I've noticed has been lacking certainly throughout my career in fintech. For instance, caring too much, showing emotions and reading into non-verbal signals are often seen as unhelpful or non-technical in the sector, but they can actually be a real asset for a fintech team. If an organisation believes otherwise, then they have so much work to do. Show me a fintech that has been successful without people who care and feel emotionally engaged and acknowledged.
It's in that quirky mix where many of my key skills lie, along with having a fierce data processing brain (and being a mean amateur chef!). I'm no longer ashamed to give myself that credit but it took a while, and I think that is because that wasn't the norm when I started this journey. I'm grateful to Atom that they invited the whole me to work here from the beginning. I hope to give that space to anyone I can now along the way.
Laura Farnworth — General Counsel
How does Atom bank make a difference for women?
I'm incredibly proud to be a member of the Atom family, not just for the support they have provided to me in building my professional career but also supporting the events that have happened outside of the office, like getting married and the arrival of my daughter, Isla. With the support of the Atom gang, she understands the concept of Mummy working and loves coming in to see the team (and have a bounce on the space hoppers!). Any and all support for girls to get involved in the world of work, finance or technology from a young age is something to be encouraged and it is incredibly rewarding to be part of a company where this continues to be a priority.
Helen Wilson — Chief Operating Officer
What advice would you give women looking to break into fintech?
Fintech is an exciting space to work in — it's fast paced and always growing. We need more women representation within Fintech. My advice to any woman looking to get into the sector would be to be brave and bold and don't put up your own barriers. Just believe in yourself and come and make a difference.
How does Atom bank make a difference for women?
Atom employs individuals for what they can bring to make a difference and deliver our exciting digital banking proposition — there are no barriers to progression in being a female in Atom. Each and every person is supported to be the best they can be, and with hybrid working and a 4-day working week, everyone can get a balance between work and home.
What makes you proud in your career?
It is so important to have female representation in senior roles within organisations, to provide role models and to provide the valuable insight and input to the business that women can bring. I am very proud to have been supported and coached to develop into my role as COO on Atom bank's Executive team.
If you want to find out more about International Women's Day, head over to the IWD website or explore the #IWD2022 and #BreakTheBias hashtags on social media. Inspired by the women here to consider a job in fintech? Head over to our careers page to find out what roles we have available.