Lumiere 2023: It's time for Durham's festival of lights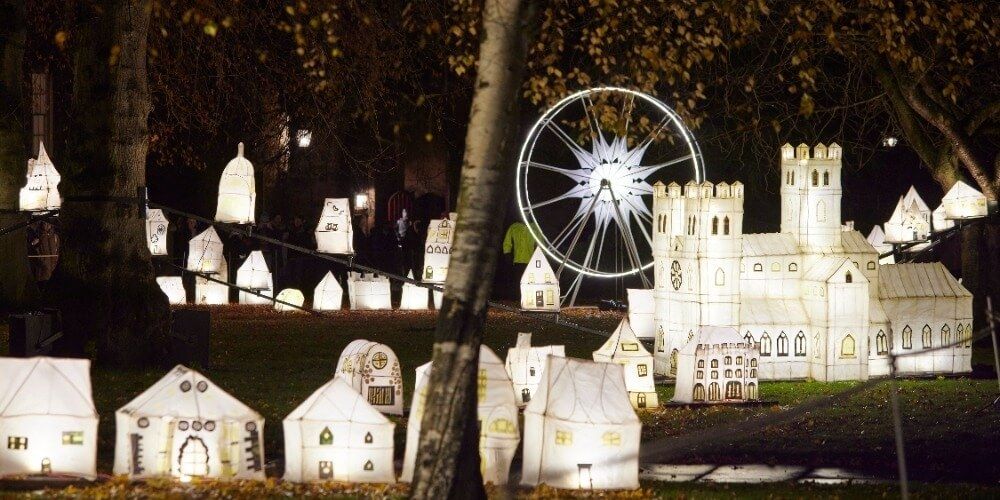 Every two years, our home of Durham hosts Lumiere, one of the world's finest festivals of light. From 16th to 19th November, the city will be bathed in beautiful illuminations, attracting thousands of visitors. And we couldn't be more excited to be supporting this important and meaningful event.
Here's Edward Twiddy, our Director of ESG here at Atom bank, with a few words on why light is of such importance to the world and our region at the minute, and how we're involved in Lumiere 2023.
It's not the spotlight
Light does an excellent job of driving out darkness, and just now I reckon that most of us could do with a good dose of added sparkle.
With daylight at a premium – and sunlight even rarer – it's not just time to make sure to get that daily intake of Vitamin D. It's also time to spice up the night time with a bit of shared illumination.
Diwali, one of the world's great festivals of light and love and friendship, reached its peak on Sunday. From magnificent city-wide celebrations to family-focused candles in clay bowls, Diwali reminds us that a flame, a hearth or a light is a focus for our emotions and a reason to re-establish the bonds that keep us together.
Over recent weeks the northern hemisphere has been enjoying a run of spectacular displays of the northern lights, fuelled by a peak in activity on the sun's surface. A friend who lives high up in Teesdale was showing me the absolutely amazing displays that they witnessed under the clear cold Pennine skies at the start of November. You don't need to jump on a plane to see the aurora — the dark skies of northern England and Scotland are fantastic places to get a view of this astonishing light show.
Our HQ is in Durham. By other standards Durham might be dubbed a smallish town, but it has the huge benefit of one of the most magnificent cathedrals anywhere in the world and a university that transforms the medieval streets into a thriving microcosm of living, learning and working.
Every other year Durham hosts its own festival of light and innovation when Lumiere comes to town. Thirty or more light installations, some produced by internationally acclaimed artists and some by the wealth of local creative talent, are positioned to create impact and pleasure and conversation. The city and the county become the backdrop for four nights of walking and watching. If you've never been then it's time to make a plan.
A couple of years ago, we supported an installation for Lumiere inspired by the voices of students at one of our local secondary schools (read about that in my previous blog post).
This year our sponsorship is behind a piece that has involved many of the children at the Laurel Avenue Primary School in Gilesgate on the east side of the City.
The installation is called Watchtower by artist Roy Haselden. He has worked with the pupils at Laurel Avenue to build a tower that captures their likeness in luminous self-portraits as it reaches for the sky. It will be based in front of Durham Sixth Form Centre on Providence Row, so be sure to say hello if you're visiting.
The outreach programme at the heart of Lumiere is one of the most important and exciting cultural opportunities for young people and for creative talent across the county, and it's a joy to be able to support it. Because at the end of the day the things that we remember, the things that take away the darkness and which leave us feeling better are the moments of light that creative people create for us.
With apologies to Rod Stewart (and deeply fond memories of Beth Orton's cover version), it's time to welcome back Lumiere and with it the streets of dreams.
Planning a visit to Lumiere?
If you're planning a visit to Lumiere this year, you'll find all the information you'll need to know on the festival's website. You'll also find a list of the artworks you can expect to see during your time touring the city, including our sponsored installation Watchtower.