Sick of London? Here's where you should relocate instead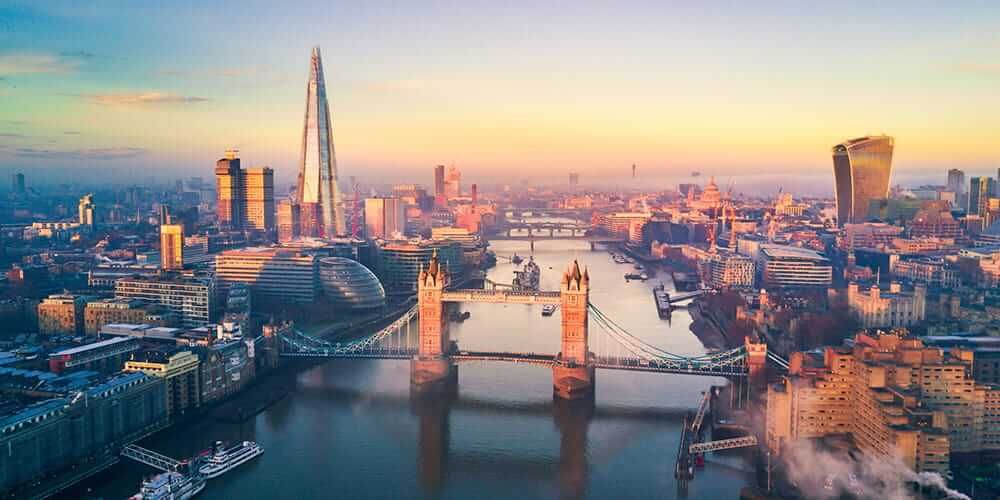 For hundreds of years, London has been the big city in England. Its pull has always been strong enough to attract people from all over the country, whether it's for working or lifestyle reasons. But, in 2020, we saw a mass exodus from the capital, with 20% more people moving out than moving in (Trust for London).
And, the trend does not seem to be slowing down at all — residents of London spent over £55 billion buying homes outside of the city in 2021 (Hamptons). It seems apparent that affordability barriers, like rising costs of living and high mortgage rates, as well as the rise of flexible, remote working, are making the decision easier for those leaving.
So, are you one of the many getting itchy feet in the capital city? To help you out, we've come up with eight "pairings" that match popular London boroughs with a similar spot elsewhere in England, complete with their average house prices for comparison*.
Kensington and Chelsea (£2.1m) to Bath (£535K)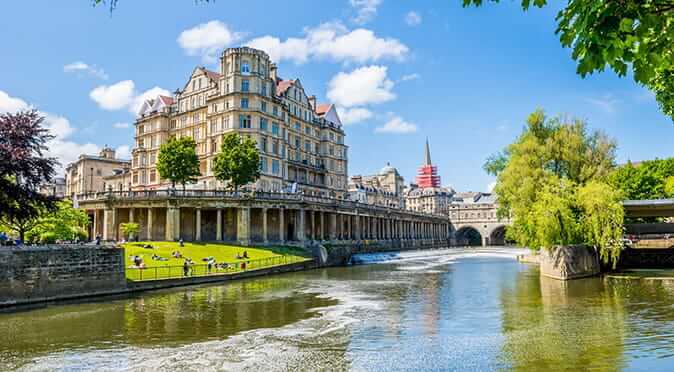 Kensington and Chelsea are both world famous for their beautiful streets and historical heritage. Over 70% of these two boroughs is marked as a conservation zone (RBKC), so it's not really a surprise that it's the priciest area of London to live.
Bath is a city that is also brimming with the culture and history, as well as the shopping and socialising options, that Kensington and Chelsea are famous for. It's still one of the pricier places to live in England outside of London, but the average asking price of £535K is 75% lower than its twins in the capital.
City of Westminster (£1.1m) to Durham (£207K)
Westminster is the seat of political power in England, hosting both the House of Parliament and the House of Lords. It's also rich in history and culture, with the likes of Westminster Abbey, Big Ben, Covent Garden and Soho calling the borough home.
If you're sick of the constant buzz that comes with politics, you should look to Durham. Not only will you be very far away from all the hubbub, but you will be wowed by the cobblestone lanes and bridges of this picturesque city, where history lies around every corner. You'll also have plenty of social and culinary options to choose from, thanks to a thriving culinary scene and nightlife. The cherry on top is that house prices are just a fraction of what you would pay in Westminster.
Camden (£1.18m) to Liverpool (£202K)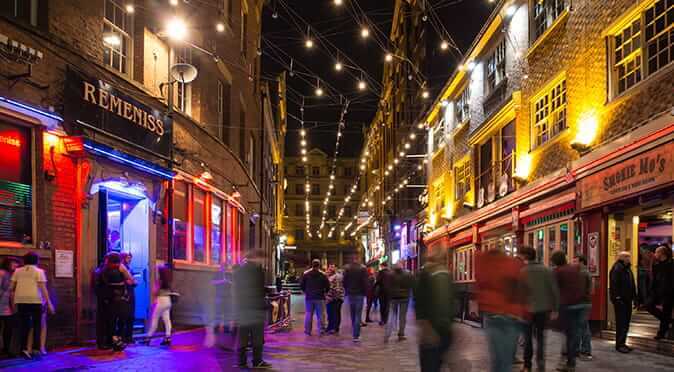 If it's the electric markets and music scene of Camden that floats your boat, then a move to Merseyside might be right up your alley. While this borough of London is known as a haven for counter culture and alternative lifestyles, the colourful city of Liverpool has as much, if not more, to offer you.
Liverpool is a city bursting with soul and passion, from its musical heritage (hello, the Beatles) and arty side to its fantastic nightlife and football fanaticism. Plus, it's got all the other best bits from London that you'd want, including plenty of history and culture.
And here's the kicker: house prices are 83% lower than in Camden.
Hammersmith and Fulham (£991K) to Manchester (£249K)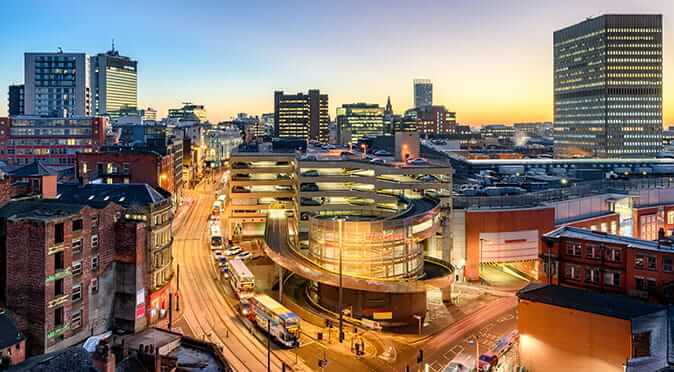 Hammersmith and Fulham are two London boroughs that provide varied entertainment by the bucketful, as well as offering a location that's not too far from the heart of the city, making them popular with young professionals. How do you top that? By moving to Manchester in the North West of England, of course!
One of Hammersmith's biggest draws is the Apollo, one of the premier concert venues in the capital. However, Manchester is also a must-play for any band on tour, so you'll still get access to all the best musical acts out there. Also, why not swap the stands of Fulham, Chelsea and QPR for one of football's hottest rivalries in the Manchester derby? In addition, Manchester is able to compete with London as being one of the best locations to work, which is great news for anyone looking to give their career a boost.
You can get all this at a price that's 95% lower than in Hammersmith and Fulham.
Hackney (£671K) to Newcastle-upon-Tyne (£240K)
At one point, Hackney was one of London's biggest hubs for industry, however, it has since reinvented itself as a post-industrial haven for young creatives. Whether you're looking for craft beer, great food or music to get you moving, Hackney is the place to be in London. So, where else can you go to experience this type of living?
Newcastle-upon-Tyne is a northern city that has followed a similar trajectory to its twin in the capital. Once a thriving industrial city, it has also had to diversify itself away from the factories and shipyards of the past, instead finding a groove as a place for creatives. This is most obvious in the Ouseburn area, where art galleries, gig venues and specialist breweries sit among redeveloped industrial buildings that are still a reminder of the city's rich history. If you loved living in Hackney, you'll love it here too, with the added bonus that house prices are 64% lower up north.
Richmond-upon-Thames (£927K) to Nottingham (£242K)
Richmond is the only London borough that spans two sides of the Thames, so you get the benefit of two lovely riverbanks, as well as plenty of canalside walks and a wealth of greenery. The area feels more like a village than a part of the UK's capital, and there's a certain charm that is hard to find elsewhere in the city.
To find somewhere similar to call home, we suggest you try Nottingham. The city, while a former coal mining capital, has transformed itself into a lovely environment full of parks, open space and canals. It's also at the heart of Robin Hood country, which means stunning country parks and forests are only a short hop away. You can settle without paying a premium too, with house prices sitting at 74% lower than Richmond.
Islington (£839K) to Leeds (£231K)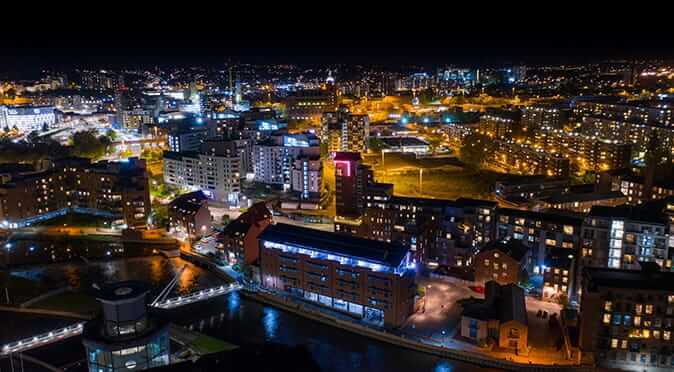 Islington has one of the UK's most vibrant culinary scenes, with fantastic restaurants on almost every corner. This is backed up by a wide range of theatres and bars along the Regent's Canal, making it a great spot for an evening on the town.
If you place nightlife as a key factor when deciding where to live, then you will simply love living in Leeds. Here you will find a selection of world-class restaurants, and plenty of options for going out after dinner, so you won't find yourself missing Islington at all. And, you can continue living it up without a big cost, as house prices are 73% lower.
*All average house prices included are sourced from Rightmove