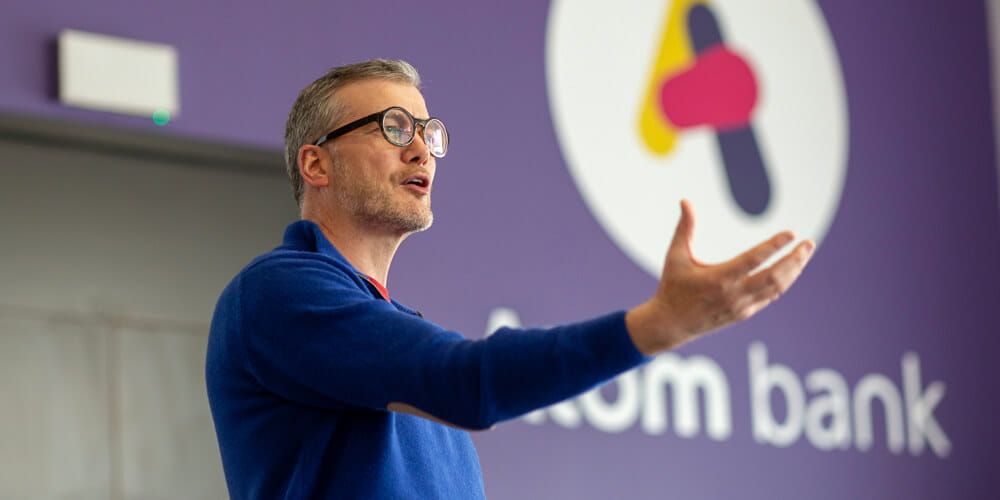 You asked, Mark answered: Q&A with Atom's CEO
In the last Inside Atom, we opened the floor for you to send in your questions for our CEO, Mark Mullen. And, after a few busy months, we managed to put a few to him. From Atom's status as a digital bank to the truth behind fluctuating rates, let's hear what he had to say.
Q: Is Atom a digital bank? What does that mean and how does that differ from a traditional bank?
MM: Yes, we are. I guess that it describes what we do as much as what we don't. We don't have branches or traditional call centres. We focus on using technology (i.e. digital!) to deliver our products and our end-to-end customer experience.
Q: Have you got any plans to introduce a current account? MM: We don't have active plans at the moment, but we are building the technology capabilities that will allow us to do it when we decide the time is right.
Q: Why do your rates fluctuate? MM: This is a simple question, but, in truth, it has a very complicated answer. Mostly, though, we change our rates to allow us to make sure that we make enough money to lend safely and economically.
Q: Can you give any reason why Atom seems to have fallen out of favour with Martin Lewis? MM: We haven't! Martin Lewis offers consumer-focused advice and isn't any bank's friend. So, when we offer great rates, he talks about us, but less so when we don't.
Q: As a previous market leader with saver rates, Atom looks to have fallen away this year. What can you do to stop deposit holders like me from contemplating moving? MM: Rate changes can be influenced by many factors. However, we're always reviewing them to make sure we're competitive. I'd recommend staying alert when it comes to managing your money.
Q: What's the difference between your Fixed Saver and Instant Saver, and how do I know which one to choose? MM: The main difference is that the Instant Saver allows immediate, unlimited access to funds, while the Fixed Saver locks your money away for a better rate over a term. If you need to have immediate access to your money, choose an Instant Saver — if not, then perhaps a Fixed Saver would offer you a better rate?
Q: What does the future of Atom look like? MM: Exciting! We've enjoyed a successful period over the last couple of years and we're looking to build on that. We are always looking for ways to innovate and make banking a much better experience for our customers.
And that's a wrap! Thanks to everyone who sent in their questions for Mark over the last few weeks. Remember to keep an eye out for future editions of Inside Atom in your inbox, and you can always find the latest news and insight on the Atom blog.