How does remortgaging work?
We explain what a remortgage is and how to apply for one.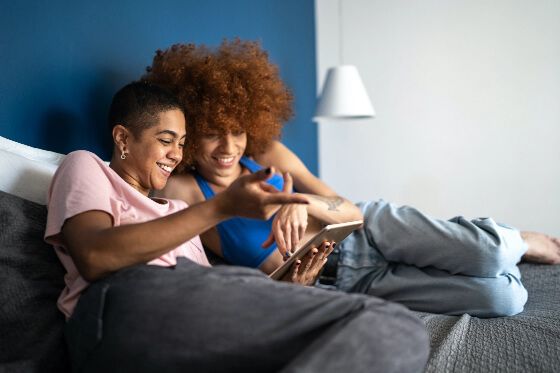 What will this article cover?
What is a remortgage?

How does remortgaging work?

Checking the costs
Obtaining an Decision in Principle (DIP)
Applying for a remortgage
Legalities

FAQs

Why remortgage?
How long does a remortgage take?
Can you remortgage early?
How easy is it to remortgage?
What is a remortgage?
Remortgaging means staying in your current property but taking out a brand new mortgage deal with a different lender. When you remortgage with a new lender, they will, essentially, pay off your current lender and your debt will resume with them.
It's worth mentioning up front that there are technically two main ways to find a new deal on your current property: a remortgage and a product transfer. While they both go about finding you a better deal going forward, they go about it in different ways, which we'll now explain.
What is a product transfer?
If you choose to switch to a new product but remain with your existing lender it's known as a product transfer. This differs from a remortgage in that you're choosing to leave your current lender and seek a new deal from another one.
The application for a product transfer is usually smoother, as they've already assessed your eligibility, and not much will change apart from how much you pay each month. With a remortgage, there is a lot more administrative work involved and there may be fees to be paid, but you will be able to choose from a wider range of deals across the market.
In some cases, people will use the term remortgage to refer to both an actual remortgage or product transfer in very general terms. In this guide, we will mainly focus on the process of remortgaging, as it is more complicated, but we'll also provide useful information about product transfers as we go.
How does remortgaging work?
Have you come to the end of your fixed mortgage term? Are there better deals coming your way that you haven't considered before? Sure, the process of remortgaging your home can be an exciting one, but it shouldn't be a decision that you jump into too quickly. As with everything in life, preparation is key — and the remortgaging process is no different.
In need of a helping hand? Whatever the reason might be, we're here to tell you all you need to know about remortgaging your home.
Step 1: Check the costs

Big life changes don't often come cheap, and remortgaging your home is no exception. Just like a normal mortgage, remortgaging comes with extra costs, so it's important to check these properly before continuing with your application. Some of the extra fees include:

Early repayment charge

If you choose to break your current mortgage deal early, then an early repayment charge — often shortened to ERC — may be applied. The charge itself is usually a percentage of the outstanding balance from your current mortgage, which typically decreases the longer you keep your mortgage.

It's worth noting that you typically won't be charged an ERC if you're on an ERC-free product. This may also be the case if you are already on your lender's standard variable rate (SVR), making it the ideal time to shop around for a better deal.

In order to make your current mortgage worth leaving behind, you'll need to make sure that your new deal is better for your current circumstances, whether that's a lower monthly payment, a shorter term, or something else. After considering this, you may even decide that your current mortgage still offers good value compared to the market, which is also an option.

"You can choose whether you want to settle this charge by either paying the lender that you're leaving upfront or you can increase the mortgage sum that you're applying for to cover the cost. I recommend seeking advice from your broker, who will be able to help you decide the best course of action."
Richard Harrison, Head of Mortgages

Deeds release fee and exit fee

Also sometimes known as an admin charge, a deeds release fee is one that's paid to your existing lender, so that they can pass on the property's title deeds to your solicitor. You won't be required to pay interest on it, so it makes sense to pay at the end of your fixed mortgage term to ensure the figure doesn't change. You can, however, pay this upfront when you first set up your mortgage, if you prefer.

An exit fee, on the other hand, is the fee that some lenders ask for when a customer leaves to go to a new provider. Whether you're paying a standard variable rate or still in your current deal, many lenders will ask for a fee — check your mortgage offer and tariff of charges to see what applies.

Valuation fee

Some lenders may charge a valuation fee to cover the cost of a mortgage valuation. This is a basic inspection of your property to ensure it is a suitable security to lend on.

Many lenders offer this for free with their remortgage packages but, if your lender isn't one of those, you can expect to pay anything between £100-£600 or more, depending on the value of your chosen property. You'll most likely need to pay this fee when you apply for the mortgage.

"The positive news is that a lot of lenders will cover the valuation cost — by finding the right deal, a remortgage can often be secured without many upfront costs. Just make sure you keep this in mind when deciding on the key criteria you're looking for in a new deal."
Richard Harrison, Head of Mortgages

Legal fee

This is also known quite widely as a conveyancing fee. When you choose to remortgage your home, your new lender will need to register their charge, which will be added to the property's title deeds. Many lenders will waive this fee as part of their mortgage package, but, if not, the cost can vary.

It's likely that your lender will appoint a conveyancer for the remortgage, so, typically, you won't get to choose or you'll have to pay extra. If you are able to choose, we recommend ensuring that this is carried out by a registered solicitor or conveyancer.

Step 2: Obtain an Decision in Principle (DIP)

Wondering what a Decision in Principle is? In a nutshell, a DIP will give you a clear idea of how much you can borrow before you apply for a remortgage. Just like your first mortgage, a DIP is still one of the first steps to take when it comes to remortgaging your home.

Getting a DIP can be very quick or it can take longer depending on the lender you choose to apply with and their process. The lender will request the details they need to make a decision, whether that's directly through their website or via a broker, and then provide you with an outline of what you can borrow with them. It's worth noting that obtaining a DIP is purely illustrative, so it won't be logged on your credit record going forward.

While a DIP will give you an initial idea of the deal you may be able to secure with a lender, it's worth keeping in mind that it offers no guarantee that you'll actually be offered the terms included in your document. Any lender can change a deal if new information comes to light during a full application.

Step 3: Apply for your remortgage

Once you've acquired a Decision in Principle, you'll be ready to apply for your remortgage.

If you are applying for a product transfer with your existing provider, they may not require you to provide as much information as when you applied for your current mortgage. However, if you're going through a new lender, you will need to provide detailed information about your current mortgage, as well as your financial and personal circumstances.

You can reduce the time it takes to complete your remortgage application with a new lender by having all of the relevant paperwork at hand in advance. If you're taking the advice of a broker, there's a very good chance that you will have already assembled all the right documents for them to check over, so you may be in a position to apply right away.

Make sure you have the following documents for the lender to inspect:

Utility bills
Credit card statements
Details of your address from the last three years
Bank statements and payslips from the last three months (your last three years' accounts if you're self-employed)
ID (driver's licence, passport etc)
Your P60
Records of any subscriptions, paid for prescriptions and other regular outgoings
Proof of any commission or bonuses you may have received

It's worth bearing in mind that the new lender you're applying with will look at an accumulation of different things to assess your eligibility for a remortgage, just like they would with a regular deal. They still need to make sure that you're able to afford any loan they're providing, and won't just approve a new deal because you've applied successfully in the past.

Step 4: Legalities and completion

Did somebody say the last hurdle? Finally, we come to the last few steps of the remortgage process, which involves a property valuation and a few legal checks before completion.

Your lender will organise a property valuation, which gives them an idea of how much your home is worth. It's a basic check compared to the survey you're likely to have undertaken upon buying your home, but helps to confirm the property is a suitable security for your mortgage loan.

Typically your lender will appoint a conveyancing professional for the remortgage from their own legal panel. Some of the legal checks you'll need to undergo include checking your identity and the source of your funds. They will also check the HM Land Registry (to verify there's no issues with the title to the property) and carry out a Local Authority Search (to see if there are outstanding issues).

Once your application is approved by the lender, you will receive a mortgage offer — be sure to check it over to ensure everything is correct. You will also get a current mortgage redemption statement from the provider of your current loan outlining the outstanding balance.

If everything is ready and all checks are complete, the next step is for a completion date to be agreed and a Certificate of Title to be sent to your new lender confirming you're good to go. The conveyancer will then request the money to be used to pay off your existing mortgage balance. On completion day, the funds are released and you will receive a statement setting out all the fees from the process.
Remortgaging FAQs
Why remortgage?
There are a number of reasons why you might choose to remortgage a property. The first and most obvious reason is that you're seeking a better deal. Many fixed rate mortgages last between two to five years, so the end of your current deal might be the perfect prompt to get better value. It could be that you've had a change in financial circumstances and want to overpay your mortgage, but your current lender may not allow this. Or, maybe you're just keen to find a better interest rate.
Whether it's this or that, remortgaging does have great benefits — it can be a real money saver when done right. Not only could you have the opportunity to save money each month, you may also have the chance to free up lump sums for bigger purchases, debt consolidation and home improvements.
How long does a remortgage take?
The standard remortgage process usually takes around four to eight weeks once you've put forward your application. This can differ depending on which lender you choose to go with.
Can you remortgage early?
Yes, it's possible to remortgage early. Generally, it's usually possible to remortgage six months into a new mortgage deal, but that doesn't always mean that you should. It's important not to be distracted by something like a lower rate, and to consider whether an early exit from your current deal will be beneficial to you financially overall — for example, will the savings of a lower rate exceed any ERC that you may need to pay? We always recommend seeking mortgage advice to ensure that any decision that you make is within your best interests.
How easy is it to remortgage?
It depends. It can be straightforward if you start the process early enough. If you give yourself time to assess the different deals out there and speak to a broker about your wants and needs for a remortgage, you shouldn't become too bogged down with the application process.
Ready to apply for a remortgage?
Ready to seek a better alternative to your current mortgage deal? Then it might be worth taking a look at the remortgage products here at Atom bank.
Our mortgages are available through independent brokers only — so you'll be sure to get honest advice on the best remortgage rates and deals out there, even if they're not with us.
If you're already an existing Atom bank customer and you'd like to continue your mortgage journey with us — either once your fixed term deal ends or before — be sure to look at our product transfers.
If you are remortgaging or seeking a product transfer with Atom bank, a broker will still help you to find the best deal. If you're remortgaging as a new customer, they will do all the fact-finding, by asking you some questions about yourself and any other residents in the property, before enquiring about your financial situation, spending habits and any existing credit agreements. Even if you're seeking a product transfer with us, a broker will still talk you through your options to ensure it's right for you.
Once the broker has acquired all the information needed to distinguish which deal is best suited to you, and it's with Atom bank, we will then issue the DIP after an initial inspection is completed.
You may also like
Leasehold vs freehold
A leasehold vs freehold property means you own the property but not the land. Discover the differences and advantages in our guide to property tenures.