How to get the best mortgage rate
Find out how to get the best rate when you apply for a mortgage.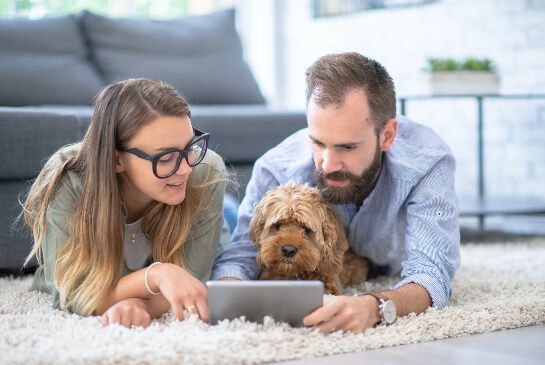 What will our guide to get the best mortgage rate cover?
How to get the best mortgage rate if you…
are a first time buyer
are looking to remortgage
are moving home
have less-than-perfect credit
Whether you're a first time buyer, moving house or applying for a remortgage, securing a mortgage can give you a real sense of ownership that's unlike anything else. However, this significant — and occasionally stressful — milestone in adult life requires a bit of hard work and know-how to get right, but with the right approach it's possible to get a good deal..
Want to know exactly how to get the best mortgage rate for you? Weigh up your options and find the right mortgage deal today, with the help of our expert-led guide.
How to get the best mortgage rate if you're a first time buyer:
When it comes to being a first time buyer, expert advice is key to getting the best mortgage deal possible. Seek out help first, as an independent mortgage broker will scour all available rates with no bias to influence them. They have access to a huge range of different lenders and can often find deals that are not widely available. It's also worth noting that a broker has an obligation to source the mortgage deal that works best for you, so they will look at all aspects of the product, not just the rate. So, it may not always be the case that they go ahead and recommend the best rate available.
On the other hand, it's always important to do your own research too and take things like the size of the deposit into account. It can be difficult to know exactly what deposit is optimum, but having a larger deposit will result in a lower Loan to Value, and, consequently, a cheaper rate. By paying a larger deposit, you'll pay less interest over the term of your mortgage.
How to get the best remortgage rate:
Hoping to leave your current mortgage deal for an even better remortgage rate? Though you may be well versed in the mortgage process at this point, it's still very important that you research the best deals and calculate your finances.
Comparing the cost of your current mortgage with a potential new one is important when making sure you get the best remortgage rate.
Whether your fixed-rate mortgage has ended or you want to get out of your current deal early, you need to make sure that your current mortgage is worth changing.
"It may sound simple, but pre-empting your costs before jumping into a new remortgage deal could make a difference. You need to consider what fees might be involved, how long these might take to pay off, what your loan-value ratio might look like and whether it's worth using any existing savings to further reduce your loan or loan-to-value."
Richard Harrison, Head of Mortgages
How to get the best mortgage rate if you're moving home:
Ready to start a new story by moving home? Though there is a lot to consider when finding the best mortgage deal, we've singled out a few points on where to start.
Speaking to an expert broker is a great starting point for anyone looking for a new mortgage. Doing so not only means you can get access to great mortgage rates, but that you're matched with a product that is right for you.
If you're currently tied up in a fixed-rate deal and you can be flexible around when you start looking for a move, we suggest waiting until your fixed rate has come to its natural end before securing a new deal. This way, you won't be expected to pay any early repayment fees.
If you don't necessarily need to increase your loan amount, and if you're happy with your current lender, porting your current mortgage to your new home with the same provider can help cut down on costs.
Consider the interest rate. Usually, a lower interest rate can balance out things like early repayment fees, so it's worth comparing the total overall costs beforehand.
How to get the best mortgage rate if you have less-than-perfect credit:
Is your credit score a concern? Do you feel that it may impact your chance of getting the best mortgage deal? There's never a bad time to improve your financial health and — though your credit score doesn't have to be blemish-free — it's worth recognising that having a good one can only increase your chances of securing a decent mortgage rate.
Having a squeaky clean credit score isn't always possible, but boosting it as much as you possibly can prior to applying for a mortgage is always advisable. Each lender usually has a range of different requirements that need to be met in order for you to qualify for a loan - whether you're buying with a partner or on your own.
Here are a few ways to boost your chances of getting the best rate:
Close any inactive accounts: If you aren't making use of an account, we would suggest that you close it. If left open and inactive, it may expose you to fraud risk and display expired details.
Set up direct debits: Any missed payment could count against you and your credit score, so, where possible, pay all your outstanding outgoings. Setting up a direct debit will help you make payments on time.
Keep an eye on your overdraft: If you dip in and out of your overdraft, this may reflect badly on your financial record. Some lenders are particular about overdraft usage so we recommend avoiding it if possible, at least during the three months before your application is submitted.
"If you have a less than perfect credit, we recommend keeping your credit utilisation as low as you possibly can so that you don't use up all of your available credit limits.

It's also vital that you are registered on the electoral roll for your current address, so make sure this is done well in advance of submitting your mortgage application!"
Richard Harrison, Head of Mortgages
At Atom, our Near Prime Mortgage deals have been designed to aid those with a less-than-perfect credit record. So, if you're slightly below the optimum credit score or are in the process of recovering credit, Near Prime may be the best option for you. Our deals don't have a minimum credit score that you need to achieve prior to applying.
Ready to apply for a mortgage with Atom bank?
Clued up and ready to go? If you're keen to find the best mortgage deal for you, be sure to check out our range of mortgage products. To get things moving, simply find one of our brokers near you and they will be able to give you advice on suitable products.
You may also like
Leasehold vs freehold
A leasehold vs freehold property means you own the property but not the land. Discover the differences and advantages in our guide to property tenures.