Moving home checklist
Moving into your dream home? Our moving house checklist covers everything from securing the date to setting up your new utilities, so you can have a stress-free move.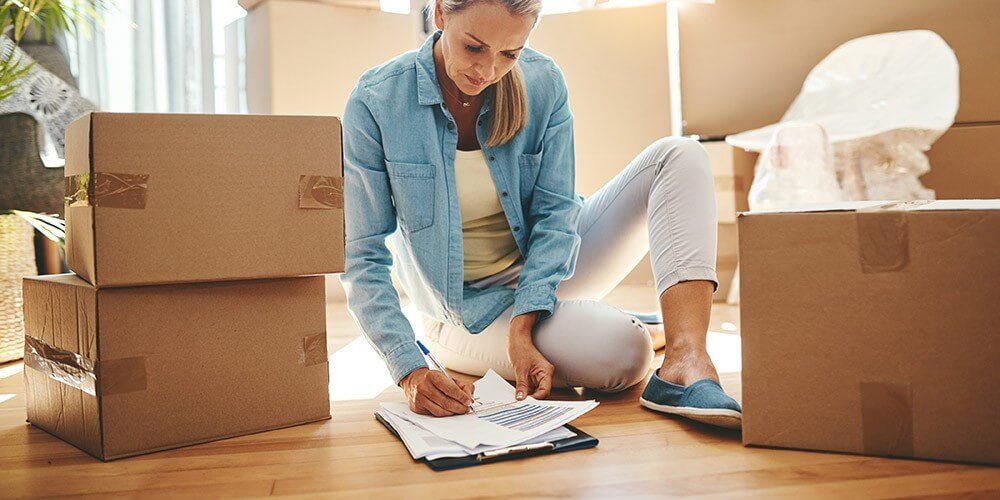 Moving house is rarely stress-free. From packing boxes to changing your postal address, there's a lot to consider. If you're not prepared, the aspects of moving can quickly become overwhelming.
Atom is here to help make your move a little less daunting, and a little more doable. At Atom, we've created a nifty moving home checklist to help you through every step of the process.
Before the big day
Picture this: time is ticking towards the big move and there's a teetering pile of tasks you need to get through beforehand. Sounds stressful, right? Here are some crucial steps that you need to take before moving day.
1. Confirm your moving date
Before you kick off the whole process of moving, you need to confirm your moving-in date. This is the day that you should be able to get access to your new home and start making it your own. Finding this out as early as possible is crucial, as all of the planning that you do will be in the run-up to it. Once you know your date, you can work backward and start your planning.
It's worth bearing in mind that if you're buying and find yourself at the very end of a chain, you may have to wait a while for confirmation of a move-in day. While this can be quite frustrating, it's worth getting organised and making a plan so that you're ready when the time comes.
2. Give notice to your landlord (if you're renting)
If you're renting, you should tell your landlord when you intend to move out as early as possible. Be sure to check your tenancy agreement to see if there are any specifics for how to give notice — if not, doing so in writing is usually a good idea.
3. Decide if you're a DIY mover or need the professionals
Depending on the volume of items you need to move and how motivated you are to transport them yourself, you may want to consider whether you want to hire any professional movers. Of course, if you can call on a few friends and family to help out with the task, it will make things a lot easier. Otherwise, you should start getting a few quotes from movers before you book their services.
4. Have a clear-out before packing
Moving home is a great excuse to have a clear-out. Put simply, the fewer things you have to make the trip, the easier the job will be! So, if you have belongings that you could do without, why not get rid of them to lighten the load? Be sure to sell or donate anything of value before disposing or recycling the rest.
5. Be prepared when packing begins
Perhaps the most obvious task to deal with is packing all of your possessions to move to your new home. In almost every instance, this usually takes a lot longer than you might think, so we recommend starting as soon as you can. Don't leave it until the last minute and risk losing or damaging your possessions in the process!
Get ahead of the game and prepare for unpacking by labelling each box with its contents and the room it needs to go into. This will seriously reduce stress levels on moving day — it's as simple as that.
6. Put aside items for those early days
Even though you'll be packing the vast majority of your things, it's worth having a think about what you will need for those first few nights. These may include:
Essentials for a cuppa (kettle, mugs, tea, milk, coffee, sugar)

Cleaning products and a vacuum cleaner

Chargers for your phone and laptop

Toilet and kitchen roll

Bedding, clothes, and toiletries to last you a few days

Television or radio for entertainment
Set them aside when you're doing your main packing so you know where they are.
7. Consider who you need to notify
Struggling to know who to contact? Though it can be an easy part of the process to forget, it's important to keep those who need to know in the know. It's not just your family and friends who need to hear about the big move.
Here's who you should reach out to when moving house:
Government bodies: HMRC, DVLA, Electoral Roll, Department for Work and Pensions, TV Licensing, and your local authority

Insurance providers: Car insurance, pet insurance, life insurance, health insurance, home insurance, mobile phone insurance

Financial providers: Banking and savings account providers, investment funds, loyalty card providers, pension services, credit card companies

Regular bills and utility suppliers: Water, electricity, gas, broadband, home phone, and grocery delivery suppliers - as well as your mobile phone providers

Education, work, and doctor contacts: NHS doctor's surgery, dentist, opticians, your employer, schools or other educational institutions your or your household is enrolled in, any other professional associations
8. Help out the next owner
Before uprooting and leaving your old home behind, why not make life easier for the next people moving in? Though you may not be staying in the property, it's always great to leave it in well-informed hands.
Why not create a helpful list of tips and reminders for the next owners? Include helpful information like when bin day is, where your gas meter can be found, and other local tips and tricks.
Last but not least, leave all the additional paperwork and keys behind for the new owner to have in their possession.
On moving day
Before closing the front door for the last time in your old home, there are a number of things you should make sure you do before saying goodbye.
1. Do a deep clean
Don't let a dirty home dampen the move-in day for the new owners. Make sure your old home is nice and clean before passing over the keys.
2. Check every room
Make sure that you haven't left anything of importance behind and check every room before locking up. You must also ensure that you've switched everything off and double-checked that everything is safe and secure — including the windows, doors, lofts, and basements.
3. Keep your essentials safe
Before you fully pack up, we advise keeping your essential items in a separate safe place, such as your car or a designated safe. Everything from your wallet to your car keys could get easily misplaced in the hustle and bustle of moving out.
4. Don't hesitate to ask for help
Do you have a toddler in tow? Have you got several pets that need more than a little love and attention? If you have small children or animals to take care of, it can really help to bring in a babysitter or explore pet care centres.
Consider calling on your family and friends if you need an extra hand with care duties! As it turns out, a stressful day moving house and screaming kids don't mix.
Once you're in your new home
Phew — congratulations! You've got the keys to your brand-new house and you're all unpacked. A settled evening in your new home is almost within reach. But, before you kick back and relax, we suggest you consider the following:
1. Do another deep clean
There's a good chance that the previous residents will have carried out a deep clean just before they left (just like you did!), but you may wish to undertake your own just in case. There isn't a better time to get access to all those hard-to-reach surfaces than before you move your own things in.
2. Look to a locksmith
If you're uncomfortable keeping the locks that are currently installed on the property, then don't hesitate to contact a locksmith and have your own locks put in. You may also wish to get a spare set of keys cut for emergencies. Don't forget the windows, as well as the doors!
3. Mind your meter readings
Make sure you aren't overcharged for the power you don't need. Be sure to submit the latest readings with your new provider and don't forget to check your meter before you use any power in your new home.
4. Test your outlets and utilities
Make sure to test out all your plugs, taps, your boiler, and other appliances to eliminate any risk of faulty utilities.
5. Love thy neighbour
Don't be shy — introduce yourself to your new neighbour. After all, you might meet a new friend or at least someone to call in a house-related emergency.
6. Explore your local area
Finally, don't forget to start exploring your new local area. Find out where all of your essential local amenities are, such as shops, parks, schools, hospitals, the town hall, and dentist and doctor's surgeries. If you're starting a new job or the kids are at a new school, you might want to do a practice run of your commute so that you don't get lost on that all-important first morning.
You may also like
Leasehold vs freehold
A leasehold vs freehold property means you own the property but not the land. Discover the differences and advantages in our guide to property tenures.