You'll be sold on our mortgages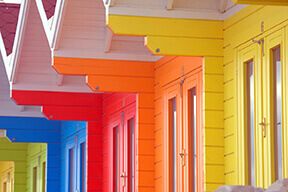 You'll be sold on our mortgages
When we set out on this journey, our vision for Atom bank was to change the world of banking and put customers right at the heart of their financial decisions. For me, a big part of this vision was our focus on delivery of mortgages. To finally see the mortgage offering come to life this January has been one of my proudest moments, not just at Atom bank but across my whole career.
Whilst there have been tantrums, tears and a bit of swearing to get here, and there is still a whole lot more to do, we're extremely excited about what we've managed to get off the ground to date, and we're sure you will be too.
At a high level…we've taken the traditional mortgage model, digitised it and given it a good old nip and tuck. The result is a super-streamlined application process that's simple to work through and easy to understand.
In detail…every stage of your mortgage application is progressed and tracked via the Atom bank app. It minimises paperwork for you, and best of all it delivers speed. We haven't just shaved time off the application process, we've literally cut it by weeks!
This means the the only part of the process that does stay the same, is the starting point. You'll still go to your mortgage broker or independent financial adviser to get things going and they'll still provide expert advice on the right mortgage for you, so they are an essential part of getting you set up on our app.
Since launching our mortgage range, we've been inundated with questions by curious customers, and rightly so. To help answer some of these questions, I've enlisted the help of Cassie Stephenson and Liz Elliott our experts in mortgage servicing and underwriting to help me run through a few of the top questions we think you might have. Here goes…
How do I get a mortgage with Atom bank
In a nutshell, via one of our specially selected brokers. You can't apply directly to us, yet. Brokers are mortgage experts and they'll search lots of different mortgages on your behalf, and advise you on the most suitable products that meet your specific needs. If you and your broker decide we have the right product for you, and you're happy to proceed, the broker will send an application our way. If, for whatever reason, our products don't meet your needs, or if there's another product out there that's even better for you, the broker will let you know this too.
How do I find a broker that deals with your mortgage
Simple. Just call us on 03333 990050 and we'll point you in the direction of a broker.
What else do I need to get a mortgage with Atom bank
The Atom bank App: Just search for 'Atom bank' in the Apple App Store© or Google Play© Store to download the app. If there is more than one person applying, you'll both need to download the app individually.
An email address: Each of you applying will need to provide a unique and valid email address to your broker.
A device: Each of you will need to have their own smartphone or tablet that you can download the App onto. Our App works best on iOS 8.0 or later and Android devices, including: Samsung S4,S5,S6 and S7 Edge along with Google Nexus 5X and 6P, version 5.0 or later.
A mobile phone number: Each of you will need to have your own valid mobile phone number than can receive SMS and calls.
Why Digital Mortgages and not Atom Mortgages
Good question. There is another Atom in the broker galaxy that's been around for over 25 years and is very successful in the intermediary world. So, to avoid any mix–up between us and 'All Types of Mortgages (AtoM)', we call ourselves 'Digital Mortgages by Atom bank' when we talk to our brokers.
What are your rates
This is one for your expert broker to discuss with you as we don't talk about our rates directly. All we will say is that they're competitive and we design all our products around our customers! Remember, just call us on 03333 990050 to find a broker.
What kind of property will you lend on
We lend on houses and flats including New Build but property comes in all shapes and sizes so we do have some exceptions. Your broker will be able to advise you if you have any specific questions or if your property is a little bit unique.
How do I check on the progress of my mortgage application
You'll get live updates via our Atom bank app once you've successfully passed the Decision in Principle (DIP) stage. We update your broker at the same time so you're both up to speed and can discuss things together.
What's so good about Digital Mortgages? How are you different
Put simply, it's all about you. We want your mortgage experience to be nothing short of amazing. Let's not kid ourselves, buying a property can be very stressful, but by providing you with real time progress updates, as well as access to phone support 24/7, we aim to keep you calm throughout. You even accept your offer with the click of a button, and can view all of your important documents in app.
So there you have it, the hows and whys of Digital Mortgages by Atom bank. The industry needed to change for the better, and we are making sure it does, one application at time.