Leading the way - Our award winning Customer Service Team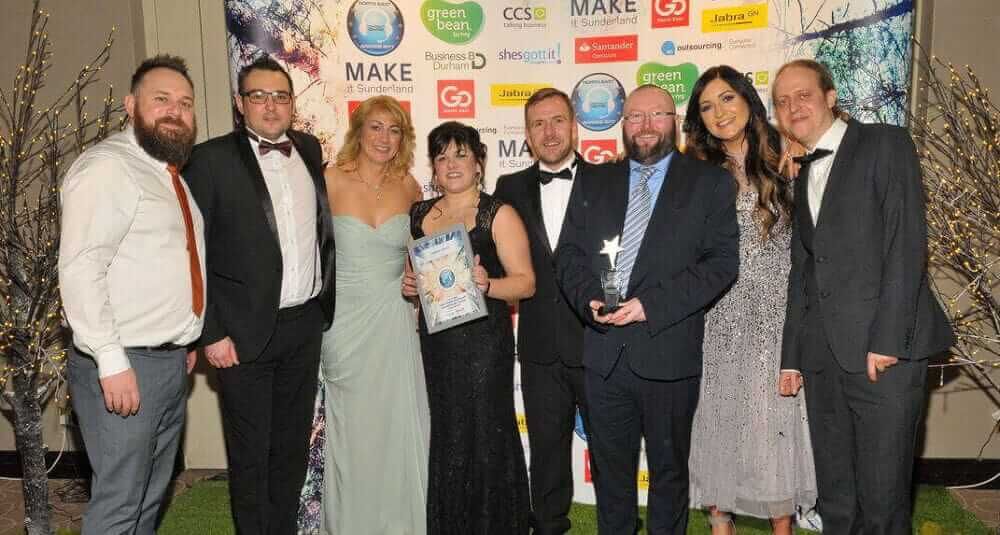 It was Friday night. We were dolled up to the nines, with a team that was 20 strong, all heading to the beautiful Ramside Hall for the North East Contact Centre Awards (NECCA) where we were shortlisted for five awards; the atmosphere was electric and hopes were high. The awards take place every year where organisations from across the region come together to celebrate their successes and to be recognised for their hard work and dedication.
To quote Eminem, 'Palms were sweaty, knees weak, arms were heavy…' and a few of us were certainly resembling this at the beginning of the night, but the sense of excitement and pride to be a part of a team overcame the feelings of nervous anticipation. As we made our way to our seats we could feel the exhilaration in the air. The awards kicked off with an introduction from BBC Radio Newcastle's Anna Foster before the action began. We got off to a flying start, winning the first two awards of the evening. I was crowned 'Contact Centre Advisor of the Year' which is a huge achievement after only working in the industry for less than a year. Kay Milner took the award home for 'Multi-Channel Advisor of the Year' after finishing runner up last year. We had an impressive four agents shortlisted in this category, with Phil Key taking the runner up spot.
Ben Evans received runner up for Inspirational Leader of 2017. We were thrilled he was shortlisted as the candidates in this category were outstanding.
After a delicious meal, we carried on our successes with Sean Gilholme picking up the Recruitment Champion award. The Team Leader group also picked up the Dream Team award; both thoroughly deserved with the work they have put in throughout the year.
Spirits were sky high as we came to the last award of the night; Contact Centre of the Year 2017 (under 50 seats). Councillor Harry Trueman spoke about how the judges were bowled over by the forward thinking, sheer commitment to collaboration and cross fertilisation of great ideas shown by the winner (drumroll please) ….Atom bank! It was such a fulfilling moment for the whole team as we jumped up to accept our award.
After the obligatory photos we celebrated in style on the dancefloor which became our home for the rest of the evening. With happy faces and tired dancing feet, our carriages arrived to take us home, all feeling proud to work for such a fantastic company.

So what does it feel like to be part of an award winning contact centre?
Ashley Ford, Customer Support Team Leader said…
'As a Team Leader who started her Atom journey way back in 2015, I've seen the company grow from strength to strength and it was an absolute dream to be recognised for all the hard work our team have put in. In my 17 years in the contact centre industry, I have never worked with people who are so dedicated to making something like this work. Customer Support truly are the most customer focused team I have ever come across and it's an absolute privilege to be a part of that. We've helped to build this company from the ground up which is such a massive achievement for a bunch of Durham locals like us. Atom has given us an abundance of opportunities to mould our department in to what we want it to be and long may that ethos continue. I haven't stopped smiling since the awards. I know this is only the first in a long line of successes for us and I can't wait to see what our future holds.'