Atom Live: We chat to the founder of our new live talk series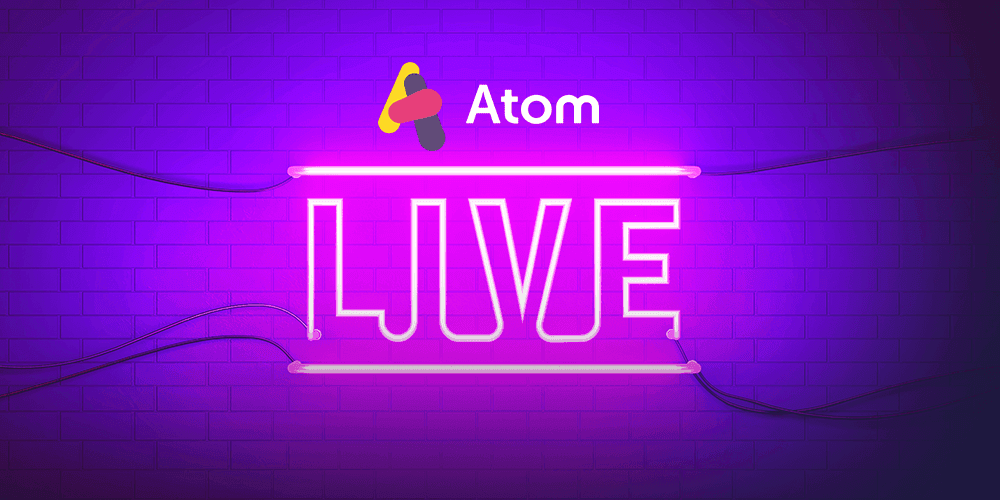 A few weeks ago, many of our team took a short break from their busy days to witness the launch of something brand new: Atom Live. Just a short 20 minutes later, they logged off from the session with a fresh insight into how to identify and manage their own inner critic — not too bad for 2pm on a Thursday afternoon.
Our brand new live talk series is the brainchild of Laura Parker, a Business Analyst here at Atom bank. We caught up with her to get the lowdown on what Atom Live is, how it came about and what might be coming in the future.
What is Atom Live?
Atom Live is an ad-hoc live talk event, where anyone at Atom can spend 15–20 minutes either speaking about something they're passionate about or tuning in to listen to a talk on a topic of their interest. There's no prescribed topics that speakers need to follow and it's a great way to get some experience delivering a talk in front of a live audience.
I also like to think that Atom Live is a platform for passionate people to make a personal connection in a virtual world.
Where did the inspiration come from to create Atom Live?
I can remember attending a talk about unconscious bias, and being blown away with the speaker and how memorable the talk was. After that day, I thought — that's the kind of impression I want to have. So, one of my personal goals became to be a public speaker and potentially have my own TED Talk (that's the real north-star goal!).
Atom Live is a great step to realising that dream, practising my public speaking in front of friends and peers, while also voicing something I am passionate about — self belief!
Did you face any challenges when turning it into a reality?
I think the biggest challenge was believing that I could make this happen. I had loads of people supporting me and the idea, but, of course, the voices of self doubt crept in and made me doubt the idea and whether people would even turn up.
Did you have much initial interest?
There are a few people who have signed up to deliver talks in the new year, and I've been overwhelmed with the amount of people reaching out to me to express how interesting and powerful the session was. I'm hoping that, after a couple of talks have been delivered, more people will get the confidence to put themselves forward.
How many people were involved in creating Atom Live?
It took a small village! I had great support from our Design team in creating the Atom Live brand and identity. Alongside Design, people from Marketing, People Experience and User Experience volunteered to support the project.
What's the story behind your talk "The Power of Drag"?
There was a moment in my life where someone actually said to me "you won't succeed", and I didn't realise how much that statement had impacted me until I saw an episode of Ru Paul's Drag Race, where the contestants had to physically become their inner saboteur.
This episode totally changed my way of thinking. I went away and spent time thinking about who my inner critic was, how to identify them and manage their opinion.
I wanted to merge the two together and make the talk a bit of fun, but also leave the audience with some tips on what to do when their inner critic starts taking over.
Did you always have yourself in mind as the first speaker?
I did, only because I thought — how can I expect people to be vulnerable and put themselves forward without doing it myself?
Have you always wanted to try public speaking?
I have. I organised a female empowerment event in 2019 for 100 people, and wanted so badly to get up and deliver a talk but didn't have the confidence. I have always regretted not taking that opportunity.
Can you give us any hints about what's coming up for Atom Live?
We have a mix of topics coming up! I don't want to give too much away but the topics vary from technology, to travelling, to Mr Men!
How do you envision the project evolving in the long term?
I'd love to stay involved in Atom Live and organise the talks on behalf of the speakers, but I'd also like to open the opportunity up to anyone who'd like to get involved in the background management, if they're interested.
Would you do another talk? If so, what would you do it on?
I am still on a high from the first one, so will have to wait for the adrenaline to settle and then consider future topics!
As Laura mentioned, there are several future talks planned for Atom Live in 2023 and a few ways the project could evolve. We'll be sure to keep you updated about any exciting developments next year — so, watch this space!