UK house prices fall: everything you need to know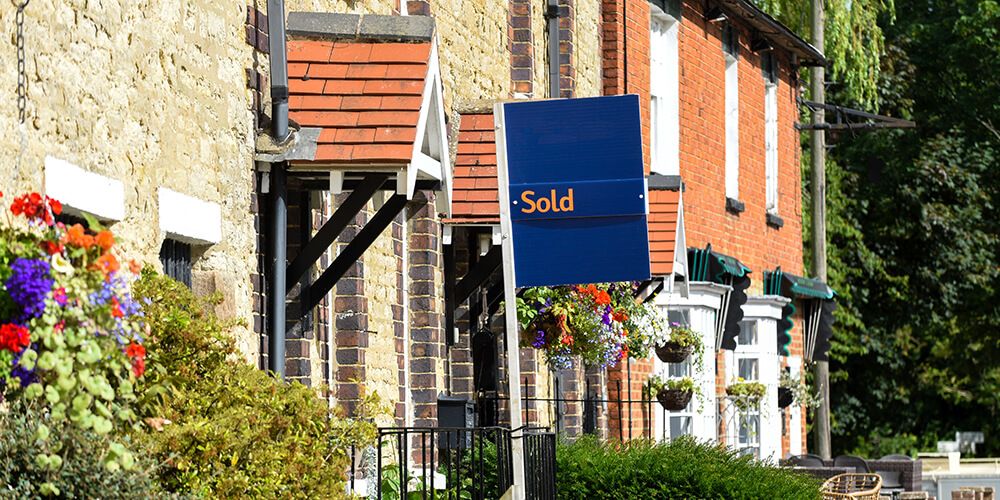 Are you looking to buy or sell a house? With house prices now falling, the current property market is trending in a different direction to just a few months ago, making it a bit trickier to navigate.
In this blog post, we'll explore why house prices are falling, as well as what this means for you and the wider market and economy.
What's happening to house prices in the UK?
According to data from Zoopla, prices have fallen 1.1% over the last year. The average UK house price now sits at £264,900, £2,830 lower than this time last year. Zoopla has forecast that prices will drop 2% next year, assuming that mortgage rates drop to 4.5% by the end of 2024 and remain there into 2025.
Why have house prices dropped in the UK?
The main factor behind the drop in house prices are rising interest rates. We're in a climate of high inflation, which the Bank of England has addressed by increasing its base rate. This rate influences the rates set by lenders for their products, including mortgages, which have also risen in line with the base rate.
These higher interest rates make mortgages more expensive, which means higher borrowing costs. Of course, when this happens, people aren't as keen to borrow, and there is not the appetite to pay higher asking prices for houses. As a result, many sellers are being forced to follow this trend and drop their asking prices.
Even though the Bank of England chose not to increase the base rate again at their last meeting, it still sits at 5.25% from the hike at the beginning of August. This is the highest the rate has been in 15 years. Many buyers will continue to hold off or refuse to pay a higher asking price, which could mean that house prices continue to fall.
The impact of falling house prices
Falling house prices can have a widespread effect on the property market. The most obvious impact is on homeowners, especially those who are still paying off mortgages. When your property is worth less, it reduces your level of equity, which is the slice of your home that you own when compared to the loan amount left to pay.
When property value is chipped away, it creates the risk of some homeowners falling into negative equity. This is where the amount you owe your lender on your mortgage exceeds the amount your home is worth. The real danger here is that someone could become what's known as a 'mortgage prisoner', where they have more limited options to switch to a better deal due to being trapped by the negative equity in their home.
For first time buyers looking to get on the property ladder, a cheaper housing market means that homes become more affordable, albeit with a mortgage that has a higher interest rate. However, if there is a sharp decline in prices, it can cause uncertainty in the market. New buyers can be spooked if they think their home will reduce in worth quickly after they have just bought it.
For mortgage providers, who use the property as collateral when they agree to a mortgage loan, a less valuable asset means they may have to be more stringent on who they lend to and increase rates on their mortgages. This is done to offset the higher level of risk they are taking on. This can make it harder to get a good deal on a mortgage as lenders have to become more cautious.
Are house prices falling everywhere in the UK?
While there is an overall trend of house prices falling across the UK, the data from Zoopla shows it isn't the case in every region.
Looking across the spectrum, prices are falling most dramatically in the South East and East of England, where there is a drop off of -1.5%. On the other hand, prices are still rising in the North of England, Scotland and Wales — though this is slowing.
Why are property prices moving in different directions? It's linked to past house prices trends in the North and the South. In the South, prices are higher, but when there's a climate with high mortgage rates, it becomes more expensive to buy with a need for bigger deposits and larger mortgages. The lower average price of houses in the North means that buyers are impacted less, so demand and prices have continued to grow.
Will UK house prices fall further in 2024?
Looking at the long term, estate agent Knight Frank has forecast that UK house prices will continue to fall by 4% in 2024. This is a softening on their prediction that prices would fall by 5% earlier in the year, which they attribute to better economic stability.
How to navigate the current housing market
With rising interest rates and falling prices, you may be wondering how to navigate the housing market in the current conditions. Whether you're a buyer or a seller, the truth is that you don't really need to do anything differently if you exercise the right amount of caution and only take action when the deal and the timing is right for you.
We recommend that you always do your research, get the right advice and make sure that any decisions you make are sensible and affordable in the long run. A great starting point for your research is our mortgage knowledge hub, where you'll find guides to help you on the property ladder.
You may also wish to look at our range of mortgages, which includes products for first time buyers, those moving home and those with less-than-perfect credit. Our products are only available through our trusted network of brokers, who will help you make sure any deal is right for you, whether it's with us or someone else.
We also have options for those looking to remortgage or complete a product transfer.