How to manage your money when you're going abroad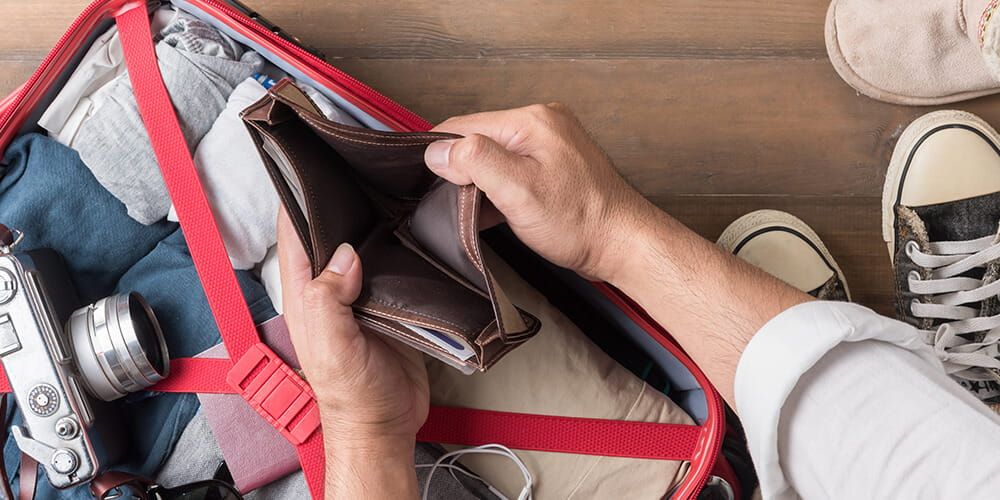 How to manage your money when you're going abroad
As the travel restrictions of recent months are somewhat lifted, many people are starting to think about jetting off for a holiday in the future. Over half of Brits are planning a getaway in the next year, with two-thirds of those people heading overseas for their trip, according to a recent Kantar report.
If you're heading abroad in the near future, then we'd like to offer you a quick refresher on managing your money when you go. After almost a year and a half of being limited to staying local, there's no harm in reading up on a few tips to get back up to speed.
Research your destination
Before you head to far-off shores, be sure to research what the situation will be when it comes to money. Here in the UK, we're moving towards a cashless economy, where card and contactless payments are commonplace, so it's sometimes easy to forget this is not the case in lots of other countries, such as Spain, Italy, and Japan (Statista).
If you're visiting a country that relies on currency for payments, you will need to take more physical cash with you or have a plan to exchange it as you go. And, if you're carrying more money, it also means you should take extra precautions to secure it as you travel, such as using a hotel safe, only bringing as much as you will need for the day and carrying it in a secure place on your person.
Create a daily budget
When you're having the time of your life on your travels, it's easy to adopt that holiday mindset where you splash the cash on everything you fancy. However, while it's not difficult to feel distanced from your finances when you're away, it's important that you don't spend beyond your means and end up with a hefty bill when you get back home.
One of the easiest ways to give yourself room to have some fun without overspending is to set yourself a daily budget. Make sure you allow yourself enough room to afford the basic necessities each day, such as food, travel costs and accommodation (if it's not already paid for), as well as an allowance for those little extras. The best time to think about this is before you leave, as it can help you work out how much currency you need.
Automate any payments that are due
Another aspect you might overlook when you're excited about an upcoming holiday is the payments that are due when you're away. Sure, nobody wants to think about bills when they're on the beach, but you still need to make sure they are covered.
You can remove the reality check from your getaway by automating any payments or by paying them in advance (if possible). Setting up a direct debit or covering a monthly bill ahead of the due date is the best way to put financial issues at the back of your mind.
Get the best deal on foreign exchange
If you need to buy some foreign currency ahead of your trip, there are a few things you can do to get the most for your money.
Firstly, don't leave it until the last minute when you are arriving at the airport, as you will find that the rates on offer are not as favourable. When you're buying ahead of time, be sure to shop around and make use of any rate-matching offers to get the best deal — make sure you take any extra fees into consideration.
If you're purchasing a significant amount, you may want to keep an eye on the market in general to see if it's a good time or a bad time to buy. The exchange rates are always on the move, so it pays to keep up to speed with them.
Manage your finances online
Just because you're heading overseas doesn't mean you have to put your life back home on hold — even your banking. Whether you want to move money around, check up on your balances, or track a mortgage application, you can generally get access to the info that you need easily if you're an online banker.
You can make life even easier by choosing to do business with a forward-thinking bank. For instance, here at Atom, you can manage all of your savings from anywhere in the world effortlessly through our dedicated app. This means you can control the funds in your Instant Saver or Fixed Saver, or even check up on a mortgage or remortgage application when you are travelling. Our app will also notify you when something needs your attention if you want to take a more hands-off approach on holiday.
Exercise caution when banking abroad
We've just mentioned how convenient it can be to manage your finances online while you are travelling, but it's also worth pointing out that you should always do everything you can to stay safe while doing so.
Try to avoid accessing your online banking on any shared or public devices, and, if you absolutely must, make sure that you log out of any accounts you sign into and don't say yes to any prompts to save your details.
When connecting over wi-fi, avoid using any network where you can't verify the source as they may be unsecure and leave your data vulnerable. Stick to using the wi-fi where you can be sure it's being broadcast from a trustworthy source, like a coffee shop or in a hotel. Even then, it's worth looking into a VPN to encrypt your data — have a look at this guide from Too Many Adapters for a crash course in using them when on the go.