We've officially partnered with Durham University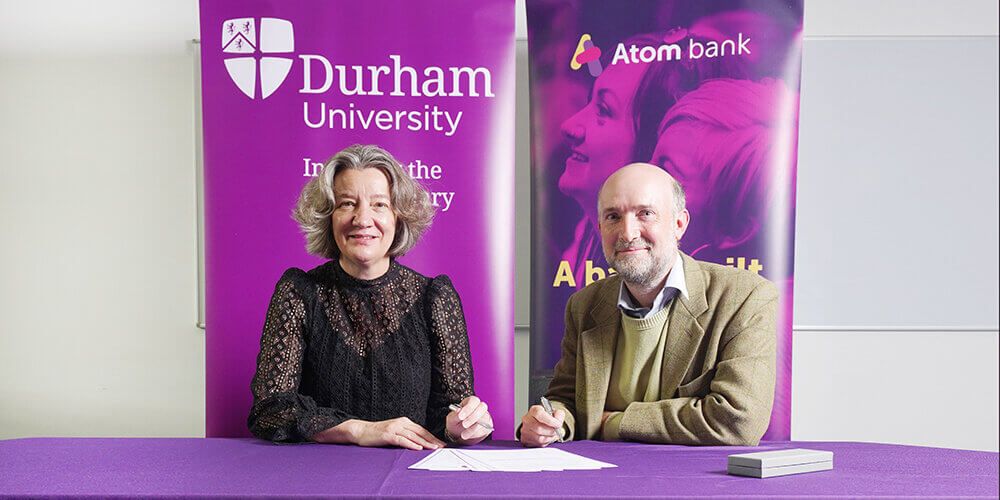 Last week, we signed a five-year memorandum of understanding (MoU) with Durham University, an agreement that will help us to continue the strong partnership we've built over the years with our academic neighbour.
This MoU is more than just a document — it creates a framework for working together on developing key areas and initiatives. We will be collaborating on the likes of data science, risk analysis, developing people and creating learning opportunities, as well as focusing on sustainable communities and protecting the environment.
Under the agreement, we will both be undertaking collaborative research to address longer term opportunities and challenges that face both organisations. We'll share each other's expertise on regional and national economic growth too, especially on issues that affect financial services and economic growth in the North East of England.
We'll also be working together to provide support for career development, which will include Durham undergraduate and postgraduate students undertaking internships and mentoring placements in our bank.
In addition, we're going to be co-developing a programme that will aim to make higher education more accessible to students from underrepresented communities.
A history of collaboration
Our new MoU is not the first time that we've worked alongside Durham University. We have a strong history of partnership that goes back several years.
For instance, we collaborated on various knowledge transfer partnerships. This included the creation of the Atom bank Digital Twin, an end-to-end banking model based on mathematical and statistical methods that can support business decisions in financial planning, resourcing, product pricing and funding. This project was recently highlighted in the University Research Excellence Framework 2021.
We've also worked with the University to invest in the community through a number of local initiatives. This included closely cooperating to develop plans for the Durham Maths School, a pioneering sixth form state-funded school for computer science, physics and maths that will hopefully help to address the critical digital skills gap.
The North East has one of the highest levels of youth unemployment in the UK, so part of our work with Durham has been focused on this area, especially with STEM subjects. For instance, we collaborated to develop Northern Power Diversity Matters, an equality, diversity and inclusion in STEM initiative with over £1 million in funding, which created a toolkit for employers and academia.
This memorandum of understanding means that our work with Durham University will be strengthened, allowing us to build on the initiatives that we've already introduced and to address issues like the critical skills gap and the promotion of underrepresented groups within the finance and technology sectors.
A partnership for the future
Edward Twiddy, Chief Customer Officer at Atom bank, said: "Atom and the University have a proud history of collaboration, so we are excited about what the future holds following this agreement.
"We're a national brand proudly based in Durham, and we strive to champion the North East as a wonderful place to live, learn and work. This partnership is an incredibly important part of that, enabling us to support pathways from education to employment, drive regional economic development and create opportunities for research and innovation that drive better outcomes for our customers and for public policy.
"Alongside the many projects that we have developed and supported together, our close relationship has already resulted in many talented individuals joining the Atom team. We expect this number to grow as we offer even more mentoring, internship and employment opportunities to Durham's excellent students."
Professor Karen O'Brien, Vice-Chancellor at Durham University, said: "Our partnership with Atom demonstrates how businesses and organisations in the North East can make the most of what Durham University has to offer, from our student and graduate talent, our academic knowledge and teaching, and our excellent research, technologies and facilities.
"Having Atom become more involved in our University community directly supports the important work we do to help our students on their path to success and provides valuable inputs to our academic research and knowledge exchange programmes. We have a wide range of work being planned and I look forward to seeing what we can achieve together."