Instant Saver
We've made saving simple.
An instant access savings account to help you save whenever you want with great flexibility and zero fuss.
Open a savings account with £0

24/7 access to your cash from the app
What is an instant access savings account?
An instant access savings account pays interest but lets you withdraw your funds instantly when you need them, with no penalties. You can open one of our Instant Savers without a deposit.
What's the Instant Saver interest rate?
1.50% AER / 1.49% GrossSee how much interest you can earn from our instant access savings account.
£100

£500

£1,000

£5,000

£10,000
* This is the estimated total interest based on our gross rates that you will earn over 12 months if you deposit on the day of opening. The estimate also assumes you don't make any further deposits or withdrawals in 12 months, and interest is paid directly into the account.
Ready. Set. Save.
Get ready to save with our Instant Saver. Here's why you need an instant access savings account in your life: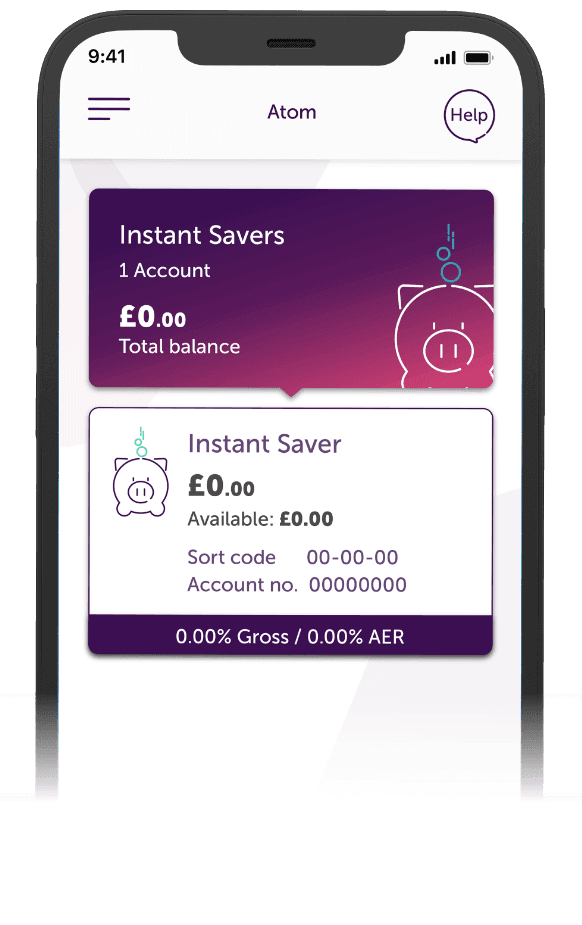 Set up in minutes
Open your Instant Saver account in-app, in minutes and start saving whenever it suits you.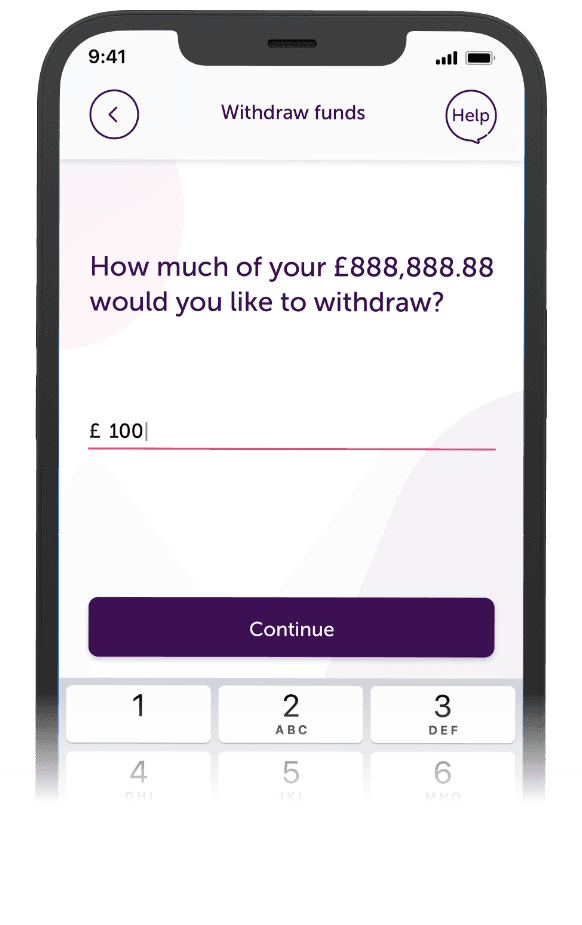 Easy access to your savings
Enjoy easy access to your savings. Withdraw or add money instantly, as many times as you like. You just need to connect a UK current account in your name to get started.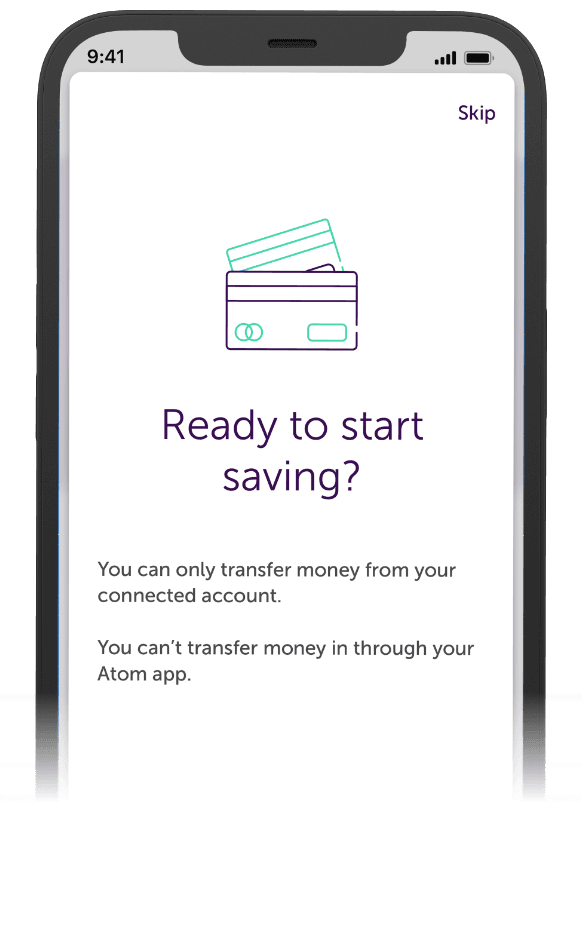 Save at your own pace
With our Instant Saver, there is no minimum or regular deposit required, so you're free to save at your own pace.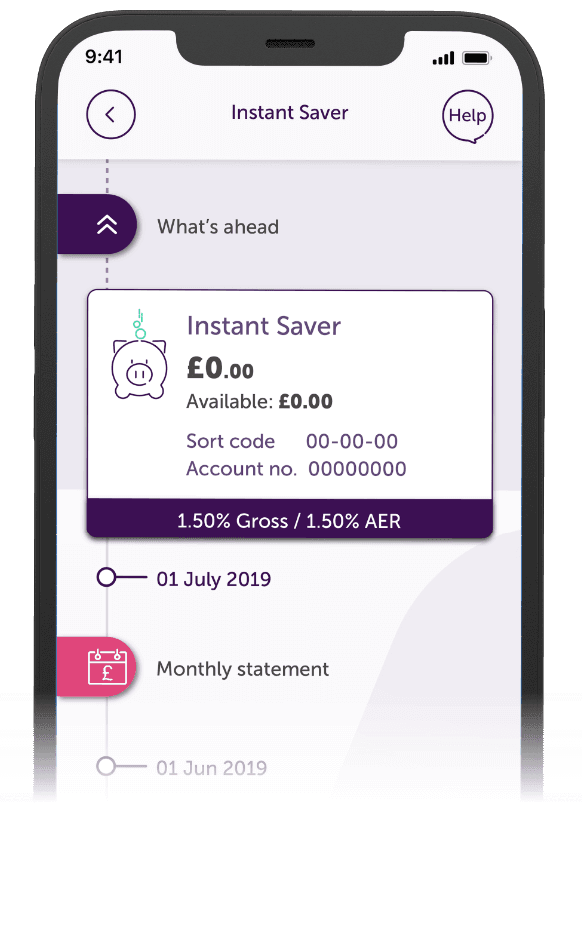 Ready 24/7
Our savings app means your savings are with you 24/7, whenever you need them.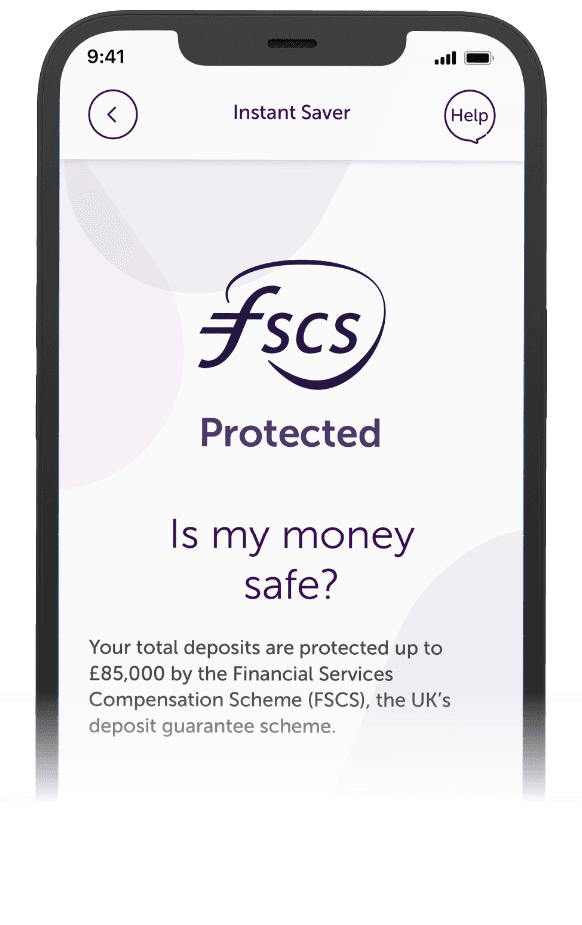 Your money is protected
All your savings with us, including our instant access account, are covered by the Financial Services Compensation Scheme (FSCS) up to a total value of £85,000.
How your Instant Saver account works
Connect your current account
Follow our simple steps to connect your account. Then deposit or withdraw money whenever you want, however many times you want.
Get saving
You don't need to make a deposit straight away, you decide when. Once your first penny hits your account, you'll start earning monthly interest.
Got a question?
Check out our most popular Instant Saver Frequently Asked Questions below, or kick back and read our Instant Saver T&Cs.
If you have any other questions about our Instant Saver, or want to find out more about Atom bank, head to our FAQs page.
To speak to a member of our team, jump into the app - they're here everyday, 8am to 8pm, ready to help.
Things to remember
Connected account
Link your UK current account (which must be in your name and registered at your address) to your Instant Saver to transfer money in and out of your account whenever you want.
FSCS protected
At Atom, your savings are covered by the FSCS up to a total value of £85,000 across all your accounts. You can learn more about how your money is in safe hands here.
We'll keep you updated
View your transactions in real-time, know exactly when your statements are ready and forget faffy paperwork — everything's in the app.
Be the first
Sign up to our newsletter and get the latest news from us, straight to your inbox.