First Time Buyer Mortgage Guide
Discover how to apply for your first mortgage, step by step.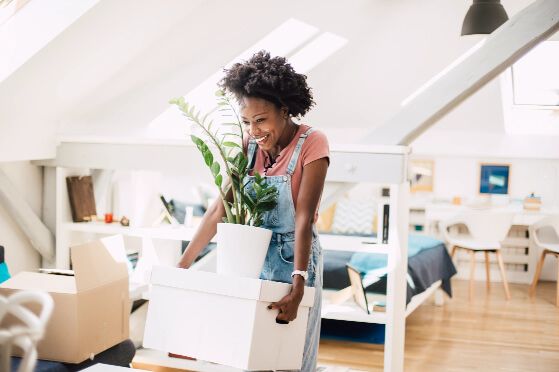 Buying your first home can be many things — exciting being one of them. Amidst the buzz of becoming a first time buyer, there's an awful lot to think about financially. Thankfully, the first time mortgage process doesn't have to be complicated. We're here to tell you why.
What will this article cover?
What is a first time buyer?

First time buyer checklist

What you'll need to consider and why

6 steps to securing your first mortgage

Commonly asked questions by first time buyers

Can I apply for a first time buyer mortgage?
How do you find the best mortgage deal?
Do first time buyers pay Stamp Duty?
How much deposit does a first time buyer need?
How do I get a property valuation?
Is it possible to get a mortgage as a single person?
What credit score do you need for a mortgage?
What is a first time buyer?
First things first, what defines a first time buyer? Put simply, you're a first time buyer if you, or the person or persons you're buying with, are purchasing your first home. If, however, you've already owned a property, abroad or in the UK, you're unlikely to be eligible for first time buyer benefits and schemes. Whether you only owned a part of or an entire house or flat, you still won't be classed as a first time buyer.
First time buyer checklist
What you'll need to think about and why…
Whether you're hoping to escape the relentless cycle of renting life, be free of your parent's home or simply make it on your own, securing a mortgage can be a daunting task. Below, you will find our first time buyer checklist, which will help you to stay on track when applying for the first time.
Start with your savings
Be it for your deposit or for your solicitor fees, budgeting is key when it comes to buying your first home.
"Make sure you take a detailed account of your budget into your first meeting with your broker. The lender should then be able to give you a more accurate mortgage Decision in Principle."
Richard Harrison, Head of Mortgages
Creating a budget planner is a really simple way to keep track of your outstanding financial commitments and your disposable income: the more you know about your outgoings, the more control you can have over your finances, which can make you seem like a more desirable candidate for lenders.
Prep with paperwork
Whether you're buying your first home on your own or tackling the mortgage process with a partner, paperwork (and a lot of it) is a necessity. Start by collecting all the documents you might need and be accurate as you go. Though the types of documents you need to provide can vary, it's important to be prepared for every eventuality.
To make sure that you stand the best chance of getting your mortgage application approved, you will likely need to provide your chosen lender with the following information:
ID and proof of current address
Proof of utility bills
Proof of income
Proof of deposit
Recent bank statements from the last three months and up to three months' worth of payslips — though this can vary from lender to lender (if you are self-employed, you'll likely need to provide proof of income for a longer period)
Learn about LTV
When beginning the mortgage process, you are often faced with terms that you've never heard of before, one of these being 'loan-to-value' — otherwise known as LTV. It's important to understand exactly what these terms mean before being bombarded with them at the start of your house buying journey.
A loan-to-value ratio measures the relationship between the loan amount and the value of the asset securing the loan — which, in this case, will be a house or flat. In simpler terms, a loan-to-value helps lenders understand how much of a risk they're undertaking by offering a secured loan.
As the LTV rises, the potential financial loss that the lender faces also increases, and they therefore charge a higher interest rate.
Ask for an Agreement in Principle
Though you may not be well versed in the many stages of securing your first mortgage, establishing an Agreement in Principle (AIP) is one of the first things you should check off your list. An AIP will help give you an idea of just how much you can borrow before you apply for your first mortgage.
"Having an AIP means you not only have more of an understanding of what size loan you'll be able to ask for, but it will also help you budget for your new home. Once you've distinguished exactly how much you can afford, you'll be able to start looking for your first property within your price range."
Richard Harrison, Head of Mortgages
Understand the different types of mortgages
To the untrained eye, there's only one type of mortgage — but the term is an umbrella that hosts a few different types of mortgages. It's crucial to have a good understanding of the different options available to you before choosing which mortgage to go for.
| | |
| --- | --- |
| First time buyer mortgages | First time buyer mortgages are specifically designed to help you take that first step onto the property ladder. With Atom, you'll find a range of products that are first time buyer friendly, options for zero product fees and a choice of different LTV bands, competitive rates, cashback deals and free valuations. |
| Fixed-rate mortgages | Fixed-rate mortgages have an interest rate that will remain the same throughout a specified fixed period of your mortgage term. For example, for a two-year fixed mortgage, the rate would not change during the first two years of the mortgage term and then revert to the lender's standard variable rate (SVR). |
| Variable-rate mortgage | A variable-rate mortgage is a product where the interest rate isn't fixed and can move up and down. Typically, a lender will set their own standard variable rate (SVR). Although some SVRs will follow the Bank of England's base rate, they don't always do so, and the lender can set their own rules or benchmark. When a fixed rate period comes to an end, you will usually be switched to the lender's SVR. |
| Tracker mortgage | A tracker mortgage (or tracker rate mortgage) is one that tracks a benchmark rate, typically the Bank of England base rate for a pre-agreed period. This means that when the Bank of England base rate goes up or down, your mortgage rate moves as well. At the end of the tracker rate period, you'd then revert to the lender's standard variable rate (SVR). |
| Interest-only mortgage | An interest-only mortgage is a loan where you only pay back the mortgage interest each month during the term of the mortgage. Meaning that you don't actually pay off the loan, just the interest on the figure, with the amount owed still having to be paid in full at the end of the agreed term. |
| Repayment mortgage | A repayment mortgage requires you to pay both the interest on your mortgage each month, as well as some of the actual loan itself within the set mortgage terms, such as 20 years. Each month the amount left on your mortgage should get smaller and will be completely paid off at the end of the mortgage term. |
"If you have a less-than-perfect credit history, it may be worth looking into one of our Near Prime mortgages. If you've struggled with financial issues in the past, they are designed to help and to ensure that securing a mortgage doesn't become a barrier to you, despite past money problems. Unlike some other lenders, we don't base everything on your past credit score, so if you're in the process of rebuilding after financial difficulty, our Near Prime products can open up doors for you."
Richard Harrison, Head of Mortgages
6 steps to securing your first mortgage
For a first time buyer, working out where to start can be daunting. Here are six steps for first time home buyers to take, in order to make the mortgage process a little simpler.
Step 1: Assess your finances

Before you even begin to think about your first payment, it's important to be realistic about your finances. Can you afford a mortgage? Will you struggle to make your monthly payments? If it's a choice between extending your saving period to ensure that you can comfortably afford a mortgage, or having to accept an unfavourable deal that is not affordable, we recommend waiting until you are financially stable.

Get your bearings and work out your budget before beginning your application. Getting advice from an independent mortgage broker is a great place to start — they will scour the market for you and help find the best deal for you, whether it's with Atom or not.

Step 2: Dig deep for your deposit

Knowing exactly how much mortgage deposit is the right amount is a challenging question — one that makes deposits even more difficult to save for in advance, especially as you don't yet know the amount that you will need in the end.

Generally speaking, having a larger deposit can help you reduce the amount of mortgage loan you need to take out allowing you to secure a deal with a lower LTV. This can result in a better rate from the lender — meaning that you could pay less interest in the long term.

However, it's also worth considering the different mortgage options available, especially if you're keen to get on the property ladder sooner. Both 95% and 90% LTV mortgages are a good place to start if you are certain you will only be able to save for a smaller deposit.

Before jumping the gun and grabbing the first deal that comes your way, try and assess your options by comparing different deposit amounts — it could make all the difference.

Step 3: Consider your credit score

Are you concerned that your credit score might impact your chance at securing a mortgage? It's all well and good having your deposit ready, but, without having a decent credit score, it can be quite hard to get a good mortgage deal. Though it doesn't have to be squeaky clean, it is worth boosting your credit score as much as possible in order to increase your chances of getting a mortgage.

Although each lender has a number of different requirements that have to be met for you to qualify for a loan, there are options to consider — ones that apply to couples, as well as single buyers. If you have a less than perfect credit score , we recommend you make sure you're at least registered on the electoral roll at your current address, pay your credit commitments on time and try to keep your credit utilisation as low as possible by not using all of your available credit limits.

At Atom bank, we've designed our Near Prime Mortgage range to help those with a less-than-perfect credit record, which means there is no minimum credit score you need to achieve.

Step 4: Factor in the costs and fees

Unfortunately, no matter how much you budget, the extra costs and fees of getting a mortgage cannot be forgotten. To avoid any nasty surprises, we suggest familiarising yourself with all the costs involved before paying your deposit.

Extra costs and fees can include:

Valuation fee: A sum paid to your lender so that they can complete a survey on your chosen property. This survey is a basic one and its purpose is purely to check that the house in question is adequate security for a loan.
Mortgage fee: This fee is paid to your lender for taking out your mortgage.
Survey fee: This is the cost of carrying out a building survey and mainly benefits you, the buyer, as it alerts you to any major repairs or alterations that the home might need before you fully commit to purchasing the property. From a homebuyer survey to a full structural survey, the costs vary depending on which level you decide to opt for. Do as much research as you can on each before choosing.
Conveyancing fee: This is a paid sum that goes to your solicitor and covers the documentation and legal work they'll be required to oversee on your behalf.
Booking fee: This is charged upfront and covers the cost of 'booking' the loan while your application is processed.
Stamp Duty fee: This is a charge paid by the buyer - the rate usually ranges from 2% to 12% of the purchase price, depending on various circumstances (property value, purchase date etc). All buyers are exempt from Stamp Duty for the first £125,000 of their property purchase, while first time buyers are exempt from this charge up to £300,000.
Land Registry Fee: This fee covers The Land Registry charge for registering/transferring the property into your name. This charge depends on how much your property is.

Step 5: Look into insurance

Like many things in life, insurance is always a good idea, but when it comes to mortgages, it's a must. It's a requirement of most lenders to have buildings insurance, which covers the costs of rebuilding the permanent parts of the property when they are damaged. This includes things like the walls, roof, doors, plumbing, wiring, insulation and any permanent fixtures and fittings.

Contents insurance — the policy you will take out to cover your possessions inside your home — is not mandatory like buildings insurance. These policies include your belongings, like furniture, appliances and any non-permanent, moveable fixtures and fittings.

We would advise that you consider taking out other precautionary insurance policies too, such as contents insurance, as well as life insurance, which provides protection of your mortgage in the event of your passing — it may seem a morbid thought, but it's important to prepare for every eventuality.

"It can never hurt to do your own research when it comes to insurance. Additionally, a mortgage broker can provide you with whole-of-market advice to help you find the best deal. Your lender may recommend insurance products to you, but it's worth reviewing them to see if they are the right fit for your needs."
Richard Harrison, Head of Mortgages

Step 6: Pick the right property for you

Technicalities aside, a successful mortgage process is only worth it when you're investing in a home that you love — that's why it's important that you pick the right property for you.

Once you've established your Agreement in Principle, you can start searching for your new home. Before you begin your search, make a list of essential "must-haves" and not-as-essential "nice to haves" — such as a second bathroom or a garage — to guide your search.

"I'd suggest talking to your local estate agent to gain a true understanding of the properties available to you — they might have a few hidden gems up their sleeve that you haven't discovered yet!"
Richard Harrison, Head of Mortgages

Property listing sites such as OntheMarket and Rightmove are a good place to start and should give you a wide range of options to browse through. You can then refine your search by certain properties, such as the number of bedrooms or the location.
Commonly asked questions by first time buyers
Can I apply for a first time buyer mortgage?
As long as you have never owned a property before, you, of course, are eligible to apply for a first time buyer mortgage with Atom bank. It's also imperative that you:
Are a UK resident and have full rights to living in the UK
Are at least 18 years old
Are buying a UK based property
How do you find the best mortgage deal?
Though there are many mortgage suppliers out there, knowing which deal is the best one for you can be tricky. We suggest that you seek out independent advice first — an independent mortgage broker will scour the market for you to ensure that their shortlist of products match your needs. Independent brokers have access to lots of different lenders in the market and have a regulatory obligation to recommend the best deal for your personal circumstances. With no sales agenda in the way, you should make an independent broker your first port of call.
Do first time buyers pay Stamp Duty?
First time buyers are exempt from paying Stamp Duty on properties up to the value of £300,000. As long as you don't go over this figure, you won't be required to pay this fee. However, if you pay anything between £300,001 and £500,000 then you will be expected to pay at 5% — so it's worth factoring this in when you come to choose your property.
How much deposit does a first time buyer need?
It varies depending on the property and your lender, but we suggest you save at least 5–10% of the cost of your desired home. For example, if the property costs £200,000, you'll need to save at least £10,000 for the deposit alone. If you can afford to, it's always wise to save more than 5%, so that you can open up your options to cheaper mortgages with a lower interest rate.
How do I get a property valuation?
An initial value/asking price will be provided by the seller's estate agent, which is also combined with the opinion of the seller themselves. By looking at similar properties in the area, you should be able to get an accurate idea of how much you can expect to pay. Your lender then carries out a valuation survey to ensure that the property is worth lending on. It's also worth taking into account that the building survey, which you initiate yourself, may find flaws in your property that have a knock-on effect on its value.
Is it possible to get a mortgage as a single person?
The simple answer is yes, absolutely. It's commonly assumed that being single can stop you from getting a mortgage approved but, rest assured, this isn't the case. Single homeowners usually don't tend to opt for large, expensive family homes, so getting onto the property ladder and buying your first, smaller home is an achievable goal.
If you've rented prior to applying for your first mortgage, you'll know that additional costs such as utilities and council tax are, regrettably, a given. However, in the current climate, monthly rental payments can actually be more expensive than a standard monthly mortgage payment, so you may be surprised to learn that you could potentially save more by buying your home, rather than continuing to rent.
We suggest that you review all of your outgoings and financial habits before applying and make sure you have all the relevant information and documents you'll need to hand.
What credit score do you need for a mortgage?
There's no exact minimum credit score for a mortgage — each lender has different requirements that have to be met for you to qualify for a loan. They will look at your whole credit history and may still offer you a mortgage if it's not perfect, although you may have to pay higher interest rates. A low credit score means that you may be able to borrow from fewer lenders compared to someone with a higher score, and it may be more expensive when you do.
Currently, we don't use credit scoring in our lending assessment for less-than-perfect-credit mortgages, which means there is no minimum credit score you need to achieve.
Could Atom bank be a good fit for your first mortgage?
Now that you're up to speed with how to secure a mortgage for the first time, you may wish to check out our mortgage products, including our first time buyer mortgages, which can offer useful features like cashback, discounted fees or reduced deposit amounts. Find a broker and start your journey now.
You may also like
Leasehold vs freehold
A leasehold vs freehold property means you own the property but not the land. Discover the differences and advantages in our guide to property tenures.