Bank loves charges: We've gone electric with Octopus EVs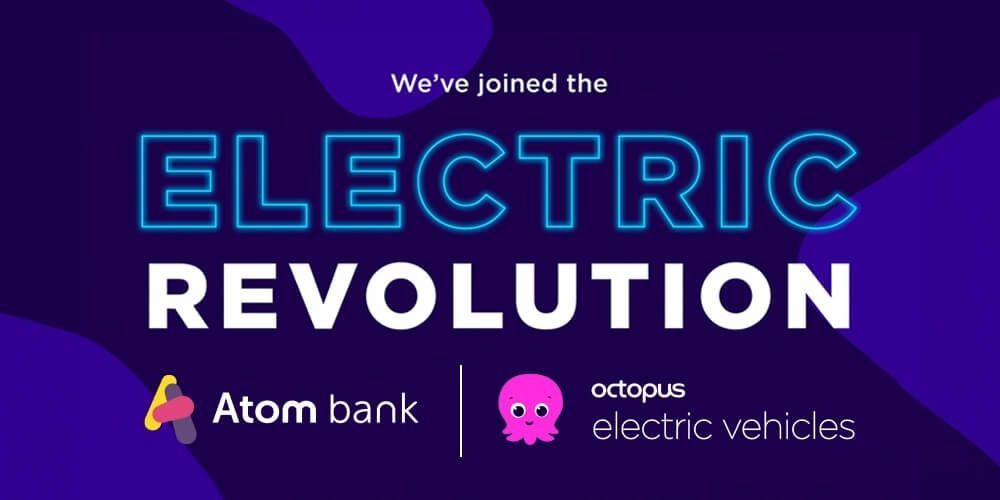 We're excited to announce that we've teamed up with the Octopus Electric Vehicles to launch an electric vehicle (EV) scheme for our people.
Through the scheme, Atom employees will be able to sign up for salary sacrifice to help them pay for a brand new electric car. This new perk aligns with our commitment to become a carbon positive bank by measuring and reducing our carbon footprint.
What is an EV salary sacrifice scheme?
Heard of the cycle to work scheme? It's just like that but with an electric vehicle.
If you're still none the wiser, basically it involves giving up some of your gross monthly pay (before you're taxed) to go towards paying for a new EV. It means our people can save up to 40% on the monthly cost by saving on National Insurance and Income Tax.
The whole package that the Atom team can access includes:
A brand new EV
Insurance
Additional driving costs (MOT, maintenance etc.)
Tyres
Breakdown cover
Installation of a home charger
Why electric vehicles?
The brands, models and range of EVs available on the market has come a long way, with vehicles of all sizes and shapes now on the road. Sales have also sped up, with EVs accounting for 14% of all car sales in 2022, up from just 5% in 2020 (IEA).
And, though recently delayed to 2035, the UK Government remains committed to banning the sale of new petrol and diesel vehicles. With this in mind, it makes a lot of sense to make EVs more available to the team at Atom through this government sponsored and tax efficient scheme.
Launching the scheme with Octopus is an important part of our strategy to reduce and reverse our carbon emissions.
Edward Twiddy, our Director of ESG, said: "Our partnership with Octopus Electric Vehicles is a key step to meeting our commitment to become a carbon positive bank by 2035.
"We've measured our use of fossil fuels for the last 3 years, and the journey to work is one of the most significant sources of CO2 emissions.
"We want our teams to work efficiently and come together whenever it's best for them, and making it easier for everyone in Atom to switch to an EV is all part of a speedy and supported transition to a zero carbon future."
The Octopus EV scheme adds to the list of valuable benefits that the team here at Atom can access.
Gabrielle Harrison is our Payroll, Benefits and Reward Manager here at Atom. She said: "We're very excited to introduce the Octopus electric vehicle scheme as a brand new addition to the benefits package for employees.
"Not only is this a great way to help reach our sustainability goals, but it also supports the financial wellbeing of our team with savings of up to 40% on a brand-new EV.
"Both of these factors are very important to Atom as an employer. This is definitely a win-win!"