COP26: We've signed County Durham's climate pledge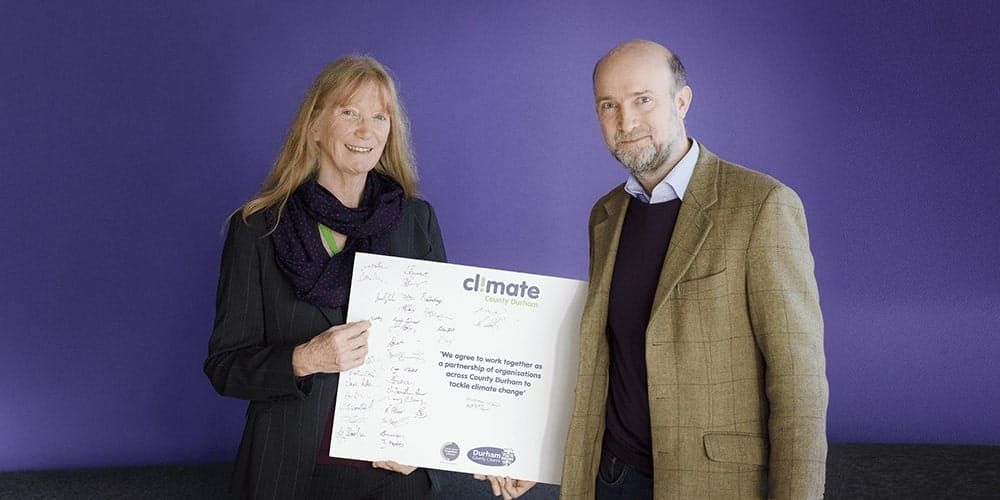 In November 2021, people watched with bated breath as (most of) the world's leaders came together in Glasgow to make concrete on their pledges to limit climate change. Progress was made, even if it wasn't as much as hoped for or indeed needed. International agreements are tough to bring together and harder still to manage and deliver against, which is why it is so important to translate global intent into local action.
The County Durham Climate Change Agreement is a new initiative that brings together organisations from across our home County to build a partnership for environmental progress. And yes, we're delighted to announce that Atom bank has signed up.
In doing so, we've joined over 70 other signatories, including representatives from Durham County Council, Durham University, the NHS and a wide range of our fellow Durham-based businesses to make a region-wide pledge of partnership and action.
The Agreement focuses on making County Durham carbon-neutral through private and public sector changes to our transport systems, waste and recycling processes and the generation and use of sustainable and renewable energy.
As a business, we've already taken steps to ensure that all our operations are as eco-friendly as possible, whether that's by basing ourselves in a green office space that relies on biofuel and solar panels for heating and hot water, separating our food waste out of landfill so that it can go into biogas production, using local organic producers, choosing partners like Google Cloud for our cloud hosting services, reducing congestion and pollution by adopting a hybrid working week and switching to a four-day week.
Edward Twiddy, our Chief Customer Officer, signed the Agreement on behalf of Atom bank. He said: "There is so much more to do internationally and nationally to make good on our promises to future generations, but as with so much in life we have to drive change through our own actions and commitments. Atom is making the right steps, and we're delighted to be part of a community in County Durham.