From sports to sign language: How our people used their All About Me Fund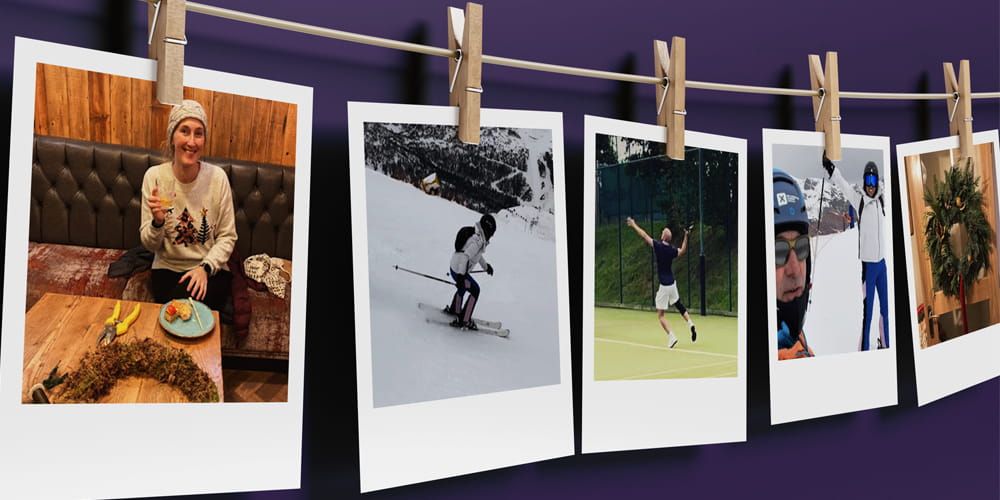 We're a busy bunch here at Atom bank. Ask any of our people what they're getting up to outside of work, and you're likely to get an enthusiastic download about their favourite hobby or the activity that's keeping them busy.
And, since we've successfully switched to a four day week, our team has had even more time to make time for something they love or have always wanted to try.
In addition, to give even more encouragement to our people to try new things, we offer our All About Me Fund, which is an annual allowance of £200 that our people can put towards developing a skill outside of their role.
While there are plenty of developmental opportunities available within our bank, the Fund is our way of fostering personal growth outside of the workplace.
So, how have some of our people been spending their All About Me Fund? Let's check in with four members of our team to see what they've been up to.
Nicola Canfield, Lead Business Analyst
What did you use the fund on?
The fund was partly used to try a new skill — wreath making! I enrolled in an interactive workshop.
What made you choose this?
Wreath making — and floristry in general — is something I have always wanted to try. So, when the opportunity came along to take part in the workshop, I was really excited!
How did you get on?
As a group, we were taught which materials to source, how to build the base of the wreath and continue to add the foliage. We then moved onto embellishments and maintenance. I ended up with a fabulous wreath to take home, and a new found skill!
How have you used this skill since?
As yet I haven't had the opportunity to replicate the skills I have learnt, however I plan to make my own this year for myself as well as close family with Christmas coming up!
Any other interesting information?
I used another part of the All About Me Fund in the same year to do a glass blowing workshop, where I made a bauble for my Christmas tree. All in all, I'm having a fantastic run up to the festive season, in what has been a pretty unexciting year!
Sophie Hutchins, Talent Acquisition Partner
What did you use the fund on?
The money went towards Private Ski Lessons in Andorra earlier this year, which ended up being around six hours of one-to-one lessons from a qualified ski instructor.
What made you choose this?
I've been skiing a handful of times and never had a ski lesson, so I really had no idea what I was doing and picked up some bad habits. I was keen to learn the foundations of skiing to build on them, and the ultimate goal was being able to ski effortlessly, rather than just screaming my way down the mountain, taking out random strangers as I go!
How did you get on?
When I went on a ski holiday to Andorra, I had three mornings of two-hour lessons with my private instructor, Pico. We met at 10am and he took me up to the top of the mountains and we worked our way down. He pushed me incredibly hard, but picked me up again and again and laughed when I crashed into the ski lift at full force. It was a great experience — though apres-ski was greatly appreciated once I'd finished!
How have you used this skill since?
After the first three days, I put my new techniques into action and went down some red slopes with friends — and didn't fall over! I also accidentally went down the tail end of a black slope and lived to tell the tale! It's made me more confident going skiing with friends who are advanced and not having to ski alone on the beginner's slope.
Any other interesting information?
I would never have paid for these lessons if it wasn't for the All About Me Fund — it really pushed me to develop myself and I am already eyeing up the fund for 2023 to use on the black slopes!
Ellie Hutchinson, Operational Risk Manager
What did you use the fund on?
Attending an Introduction to British Sign Language (BSL) evening course.
What made you choose this?
It's something I've wanted to do for a number of years, as I've encountered people using sign language and have been frustrated when I couldn't interact. The All About Me Fund took away the excuse of there being something else to spend my money on.
How did you get on?
I attended the course on a Tuesday evening at college for ten weeks, as part of a group of eight people. I learnt some of the basics of sign language, including the alphabet, numbers, places, animals, jobs, weather, feelings, food, drink and more.
I wrote some of the most interesting notes I've ever taken in a class, such as 'Peter Pointer and middle finger on both hands point down (repeat) and pant' — this was my reminder for 'dog'.
How have you used this skill since?
Towards the end of the course, I was in London for the weekend at the same time as the march for the BSL Language Act 1, which meant I could, in a basic way, interact with some of the individuals who were signing and find out more about why they were there and how they were enjoying it. It was a really cool feeling, though my ability to sign and read sign is very slow (like when you learn most new languages!).
Any other interesting information?
BSL is taught colloquially, which is not something I had considered before. I have therefore learned BSL in the Stirlingshire dialect. It also involves more usage of the face than I had imagined, which added an extra level of difficulty during the course, as facemasks were still mandatory.
Martyn Kelly, Originations Manager
What did you use the fund on?
The fund was used to develop my tennis skills. I was a keen player when I was younger, but, due to other commitments, it was something I had never continued into adulthood. Eighteen years later, I joined Blaydon Tennis Club and used the All About Me Fund to obtain some one-on-one coaching.
What made you choose this?
My passion for tennis and to be involved in competitive sport again following my retirement from football. There was also an opportunity to meet new people, and I have actually made some great friends over the last few years.
How did you get on?
I had a coaching session once a week. My coach, Remi, took me back to basics and really developed my overall game. He also improved my fitness and game management, which is something I had never been coached or had awareness of at a younger age.
How have you used this skill since?
As a result of the coaching, I managed to get into the men's team at Blaydon, enabling me to travel across the North East and play other tennis clubs. This got me back into competitive sport, which I thrive on.
Any other interesting information?
As I grew as a member of the club, I now help organise Club Championships, which I also play in. I managed to reach the final two years ago but was defeated — however the experience was fantastic!
My next venture will be to use the funds for either golf lessons (another passion of mine) or to learn Spanish, as I travel to Spain regularly.
Like the sound of our All About Me Fund? Well, it's available for everyone on the team each year. And, it's just one of the perks of working at Atom bank. Check out our careers page to see if there are any roles that you might be a good fit for.