8 questions to ask your mortgage broker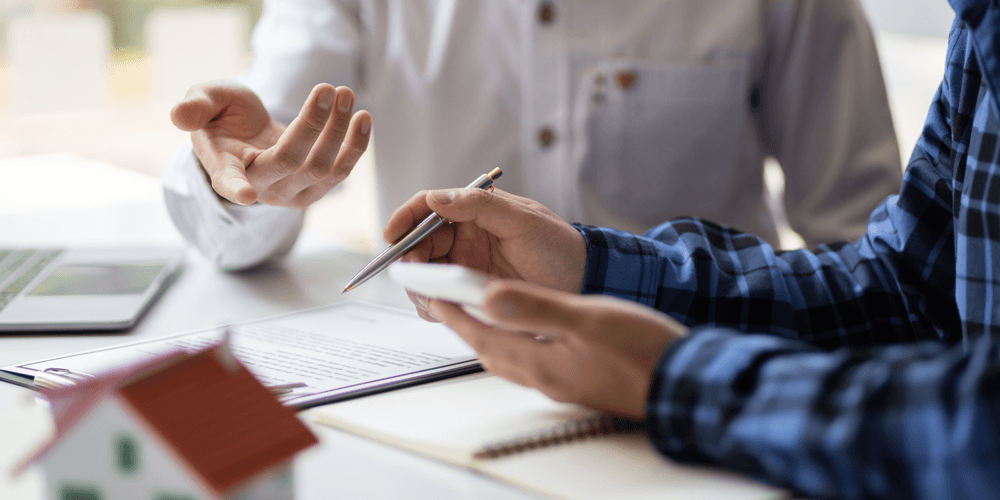 If you're a first time buyer in the UK, at some point you're probably going to speak to a mortgage broker. In fact, around 70% of British first timers use a broker to secure a deal (Statista), and take advantage of the benefits they can offer.
And it's not just those new to the property market. If you're already on the ladder, a broker can still provide essential advice during a stressful time, whether you're moving home, remortgaging or transferring a product with the same lender.
Before you settle on a mortgage broker, you'll need to talk through your situation, needs and expectations with them to ensure it's a good fit. There will be plenty of opportunities for you to ask them questions, which is a great way to get information.
Below, we've compiled a list of eight essential questions to ask a mortgage broker during your first few chats. They should help you to get an idea of whether a broker is right for you, what they can offer and what you should expect.
If you're looking for comprehensive mortgage information for first time buyers, you may be interested in our first time buyer mortgage guide that covers all you need to know.
Are you qualified, regulated and insured?
Before a broker can offer their services in the UK, they need to gain a qualification that is recognised by the Financial Conduct Authority (FCA), ensure they are registered with the FCA and have professional indemnity insurance in place.
Qualified?
Any individual that wants to operate as a mortgage broker in the UK must successfully complete a Certificate in Mortgage Advice and Practice (CeMAP) course (or equivalent) by the FCA. It takes time and effort to become a broker, so it's worth checking that a prospective broker has completed the necessary training to ensure they have the right background to help you make an important decision.
Regulated?
A broker also needs to be currently registered with the FCA or work for a firm that is registered with the FCA. This regulation is important because it means the broker must provide you with a certain quality of advice, and you'll be able to get access to the FCA's complaints and compensation service if something goes wrong. Check whether a broker is registered on the FCA's website here.
Insured?
Lastly, it's worth asking if your broker has professional indemnity insurance. All brokers should have some type of this insurance in place. It protects them financially if they face any legal action, which, in turn, protects you if any legal complaint needs to be made.
Can you explain what services you offer?
If it's your first time speaking to a mortgage broker, it's a good idea to ask them to give you an overview of the services that they offer. Doing so will ensure you know exactly what a prospective broker can and can't offer up front.
A good broker should be willing to sit down with you and truly understand what your circumstances and needs are. This will inform all of the advice they give, from what type of mortgage is right to how much you should be aiming to borrow. They should also be able to talk you through what the process and timescales will look like as you get ready to submit your application.
An introductory meeting is also a good time to ask a broker any follow-up questions, such as what exclusive markets they have access to, whether they can help you prepare paperwork and how they can help you save money on any mortgage deal.
How can I contact you?
When you're planning to move house, things can often move quickly or slow right down. Either way, you'll need to be in regular contact with your mortgage broker to make sure that everything on the mortgage side of things is going smoothly. So, it's worth finding out the best way to contact them.
Ask your broker whether they prefer contact to be mainly in person, online or over the phone, then consider if that's the right fit for you. You should also clarify when they are available to see if it will work with your schedule. If they're online-only, you may wish to confirm their timescales for replying to ensure they can assist you if necessary.
How do you charge for your service?
It's vital that you discuss how your mortgage broker will be paid for their services. This way you'll have a clear idea of what fees are due, if any, and when you'll need to pay them. At a time when you're probably strictly budgeting your move, this information can be extremely useful to have up front.
There are two ways that most brokers get paid. They'll either charge you a fee or they will earn commission from the lender, or they might receive a combination of both:
Fee payment
Many brokers will charge a fee. This may be a flat fee or one that's based on a percentage of the amount you want to borrow. In terms of when this is paid, some will ask for it up front, while others ask for payment when you complete on your property.
Commission payment
Some brokers will advertise themselves as "fee-free", instead receiving payment from the lender as commission. This is known as a procuration fee, and is usually calculated as a percentage of the mortgage loan you receive.
Please note: It may be tempting to think that going with a fee-based broker is a way to make sure their advice is unbiased. However, the FCA carries out checks to ensure that advice is unbiased for commission receiving brokers as part of its regulation, so you should, in theory, always receive advice that's right for you.
What documents will I need?
Securing a mortgage is an exercise in gathering documents. But, by employing the services of a broker, they should be able to keep you on track on what paperwork that you need to secure your loan. They should also ensure that your application goes more smoothly, as any missing documents can result in delays to a decision being made.
Generally, a broker will advise that you'll need:
ID and proof of current address
Proof of utility bills
Proof of income
Proof of deposit
Recent bank statements and payslips/proof of income (if self employed)
How much deposit do I need?
Before you can secure a mortgage, you'll need a deposit ready to go. And, depending on your circumstances, you may be at a different stage of reaching your goal.
Once you've had a chance to talk to your broker about your situation, you should ask them about how much deposit they think you need. As they are familiar with your circumstances, have an idea of how much you want to borrow and have insight into mortgage products, they're in a unique position to advise you on what's required.
They'll be able to assess your options and let you know what options are on the table with the resources you have available. They may determine that you've got more than enough saved, just the right amount or that you need to save a little bit more to get a better deal in the long run.
Want more in-depth information about getting the best deal for you? Check out our guide on how to get the best mortgage rate.
How much will I be able to borrow?
Whether you've already got an eye on a property or you're waiting until you've got a budget to work with, knowing how much you will be able to borrow is a key part of planning your property purchase. And it's definitely a question to ask your broker.
Your broker will work with you to find a mortgage offer that balances value and affordability for your circumstances. The amount that you can borrow depends on a few factors, and your broker will assess these by taking you through an affordability questionnaire that looks at areas like your income, employment, credit record and level of debt. The end result will be a figure that the broker thinks you can afford to borrow.
Obviously, mortgage providers will have their own means of assessing how much they would be willing to lend you, but this initial figure will give you a sensible guide to work with as you search the property market.
Can you help me with anything else?
While the main focus of any mortgage broker is finding you the right mortgage deal, it's worth asking if they can offer any other financial advice, particularly insurance matters.
Most mortgage providers require you to have buildings insurance in place when you are buying a home, which covers damage to the permanent parts of the property. This is because the lender wants to ensure their investment is protected. Many mortgage brokers will be able to help you source a policy that's right for you.
There are also some types of insurance that you may be interested in taking out when you become a homeowner, such as life insurance, contents insurance, critical illness cover and income protection. These policies are not compulsory, but will give you some peace of mind. Again, your mortgage broker may be able to help you get a quote.
Hopefully you find this guide helpful when it comes to finding the right broker and getting the most out of their services.
At Atom, all of our mortgages for new customers are available exclusively through brokers, which helps to ensure you're always getting the right advice before you apply. If you're still looking for the right product be sure to try our find a broker tool.
You can find more in-depth mortgage guides on our mortgage knowledge hub, and be sure to keep an eye on our blog for useful mortgage content.