Buying your first home
From saving up your deposit to exchanging contracts and moving in, our first-time buyers mortgage guide will help you through this process.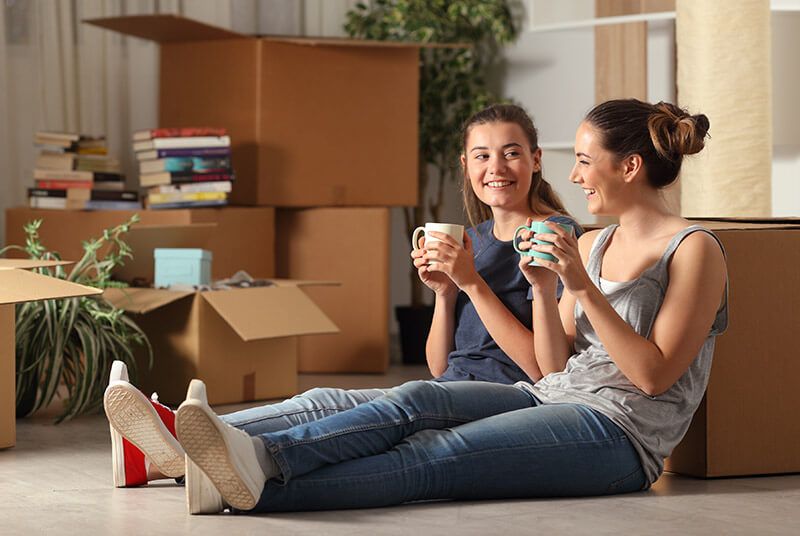 Buying your first home
Buying a house is the biggest investment most of us will ever make, and it's no secret that it can be a daunting, but ultimately rewarding, process.
So, if you're on the journey of becoming a first time buyer, we're here to help. Our guide will help you understand everything there is to know about buying your first home, and the steps to take along the way.
Affordability: working out what you can afford
If you're thinking about taking that first step onto the property ladder, you need to know what sort of budget you're working with.
You'll need to assess your financial situation to discover whether you can afford to buy a property, and the best route to take. Of course, you don't need to have all the money available at once, this is where mortgages come in. However, you will need to have funds ready for a deposit on the property.
Affordability varies from person to person, and what you're able to borrow will differ based on whether you're applying for a mortgage with someone else, or you're a solo buyer. House prices also differ when it comes to factors such as location and the size and type of property you're looking for.
What is a mortgage?
Put simply, a mortgage is a loan which allows you to pay for a property over an agreed amount of time — known as a mortgage term. You'll borrow the money from a lender (e.g. a bank) and pay it back in monthly instalments for a set number of years until you've paid off the mortgage and accrued interest.
Here at Atom, we find that the most popular mortgage terms for our customers is 35 years, closely followed by 40 years. But it could be less, or more, depending on your individual situation — it's most important that you choose a period that suits you.
The size of your mortgage loan will depend on how much you put down for your deposit. If you have a large amount saved, such as 25-30% of the value of the house, you'll need to borrow less. This means you'll have more flexibility around the length of your mortgage and your monthly repayment costs.
You can find a more in-depth guide to securing a mortgage for your first home in our first time buyer mortgage guide. You'll also find more information around mortgages in the range of guides on our mortgage hub.
Steps to buying your first home
Start building a deposit
The first step in the house-buying process is to start putting money aside for a deposit. As a general guide, many people aim for a minimum of 10% of the asking price of a house, but it's worth remembering that everyone has different circumstances and this is not necessarily the right amount of deposit for you.
At the time of writing, the UK's average property price is £286,000 (ONS), which means that a 10% deposit would be £28,600. If you saved a larger deposit, this could be £42,900 (15%) or £71,500 (25%). On the other hand, it would be £14,300 if you had a 5% deposit.
This might feel like a daunting task at the face of it, but there are a few steps you can take to help with the saving process:
Set up a savings account — if you don't already have one, set up a dedicated savings account for your house deposit to keep it separate from your other finances. Find out more about choosing the right savings account for you and check out our Instant Saver and Fixed Saver accounts.
Set a monthly savings goal — work out how much you can realistically save each month while still being able to cover your regular expenses, and any extras. Once you've done this, you'll be able to figure out how long it might take to save the target deposit and when you'll be able to start the home-buying process.
Start a savings challenge — if you're someone that struggles with motivation when it comes to saving money, a savings challenge could be a fun way to change your mindset. We've rounded up eight of our favourite savings challenges in a blog post if you need any inspiration.
Spruce up your credit score
It's important to try and make sure your credit record is in the best position possible when applying for a mortgage. When you start saving for your deposit, this is also the perfect time to check and take any steps to improve your score if needed.
Here are a few simple things you can do to improve your credit score:
Register to vote — joining the electoral roll helps lenders easily confirm your personal details such as your name and address.
Check your credit report — double check all the information on your credit report is accurate and up to date. Something as simple as a wrong letter in your address can negatively impact your score, so make sure you scan your report and update any errors.
Look out for any negative impact to your record - there are many factors that can negatively impact your credit record. Familiarise yourself with them and make sure that you're not at risk.
Tidy up your current account
Mortgage lenders will determine how much you can borrow based on your income and monthly outgoings. So, to be confident that you're securing the best possible mortgage for you, it's a good idea to look through your finances and see exactly where your money is going.
You want to make your account look as attractive as possible for lenders and show that any mortgage payments will be realistic and doable within your current budget. If you have any pricey memberships, such as a gym, expensive credit agreements, or perhaps you're partial to expensive shopping trips — have a think about where you can cut back to free up as much income as possible.
Understand the associated costs
For most first time buyers, the deposit is the biggest hurdle to overcome before stepping onto the property ladder. However, there are other associated costs that come with buying a home that need to be considered.
Before you start the excitement of viewing properties, it's a good idea to understand all the fees to expect along the way to avoid any surprises, including:
Conveyancer fees — costs relating to the legalities of buying a house and making sure everything is above board.
Stamp duty — a fee you have to pay to HMRC when buying a property over £250,000. As a first time buyer, you won't have to pay stamp duty unless the property is worth £425,000 or more. Check our guide on Stamp Duty for more details.
Valuation fee — some lenders will charge a fee for the process of placing a value on a property to establish how much it's worth, and whether they can lend you the amount required.
Surveyor fee — a vital step in the house-buying process, a surveyor will assess the property and let you know of any problems before you buy. This means you can avoid any nasty surprises and keep repairs and maintenance costs down in the long run.
We recommend you read our guide to getting a first time buyer mortgage for a more in-depth look at the various costs associated with applying and securing a mortgage.
Research the area you want to live in
If you're familiar with the area you're looking to move to, you'll likely know which parts will be the best fit for you. For those that are looking to move to a less familiar area, before you sign for any property it's important to do your research, spend time there to really understand what it's like and make sure it's what you're looking for.
A few things to look out for include:
Your commute and public transport links
Nearby schools, catchment areas and Ofsted ratings (if you have/plan to have children in the future)
Green space (especially if you have pets)
Nearby amenities, local restaurants, pubs and shops — do they fit your lifestyle?
Crime levels and history of the area — would you feel safe living there?
Speak to a mortgage broker
Speaking to a mortgage broker can help you understand how much you can afford when you're looking at houses and advise on the best mortgage type for you, as well as working out the ideal mortgage term to meet your needs. They'll also help you research the various products available to you to make sure you're getting the best deal.
While you are free to apply for a mortgage yourself, employing a broker is a good way to find the best mortgage rate possible for you once you find your dream home.
At Atom bank, we want to support first time buyers, and that's why all our mortgages are simple to understand and straightforward to apply for and manage. And we only offer our mortgages through independent brokers. This is because we always want you to be sure you're getting the right deal, whether that's with us or someone else. You can use our find a broker tool to get started on securing your mortgage today.
Familiarise yourself with freeholds and leaseholds
Freehold and leasehold are different types of property ownership, and it's important to understand the difference before signing on any dotted lines.
Buying a freehold property means that you own the whole house as well as the land it's built on. A leasehold means you own the property for a certain amount of time. However, you're under a lease with the freeholder of the land. For example, if you buy a flat within a block, you'll take out a lease with the building owner.
There's no particular action that you need to take when it comes to these two types of property ownership, but it's important to know the difference just in case either of them crop up during your search as it could impact your decision.
Check out government schemes
There are government schemes to help people onto the property ladder. So, make sure you do your research to take advantage of the schemes that apply to you, as they might just make your journey a little easier and save you money along the way.
A couple of the current government schemes include:
First Homes Scheme — discount of up to 50% for first time buyers that meet the entry criteria.
Lifetime ISA — you can save up to £4,000 a year in a Lifetime ISA and the government will contribute 25% towards your savings.
Book in-person viewings
It's inevitable that you'll spend lots of time browsing properties online or with local estate agents. However, viewing them in person is crucial to get a real feel for the space and develop a deeper understanding of their potential.
When it comes to finding your perfect home, you'll likely be able to tell fairly quickly if a property matches your expectations, and whether you're able to visualise yourself living there.
During a property viewing, make sure you're not only looking at the aesthetics of the space, but also the practicalities such as storage space, the size of the bedrooms, central heating, and the age and condition of the boiler. You also want to make sure that you're looking out for any damp and any other red flags that might lead to longer term issues.
Sealing the deal
You've made it to the offer stage of the home-buying process - how exciting! While it can be challenging to know how much to offer initially, there are a few things to consider to make sure your offer is fair and inline with expectations.
Take a look at house prices in the area, particularly those that have recently sold - this gives a good indication as to what the house may be worth, particularly if it's of a similar size.
Keep on top of the housing market, look at trends such as buyer demand and how this impacts house prices. This way, you'll be able to make an informed decision about what to offer for the property.
Is there room for negotiation? If the house has been on the market for a while, or the owners are looking to move fairly urgently, they might be more open to negotiating than those who have recently added a property to the market. Try and get a feel for the owners' situation to see how likely they'd be to accept an offer below the asking price. There's no harm in trying!
Find a conveyancer
Conveyancing is the legal side of transferring a house from seller to buyer. Average fees are usually around £500–1150 plus disbursements (HOA), with disbursements being made up by charges from third parties.
Being such a vital part of the process, it's important to find the right person for the job. Certain lenders might only work with specific conveyancers, so be sure to check with your lender to see if they have a list of approved contacts.
Where possible, make sure you take the time to compare quotes from various conveyancers, and to avoid any surprises, ask them to map out details of all the costs involved in the process.
Look into a house survey
A house survey is an expert inspection that will map out all the details of the property, including any issues that need to be addressed. The surveyors will outline any recommendations needed to get the property into good condition.
Surveys can cost anything from £300–1500, depending on the type of survey and the type of property you're moving into.
Similarly to the conveyancer, it's really important to find a reliable surveyor. So, make sure you do your research, look at various options, source quotes, and understand exactly what they'll be giving you for your money.
Exchange contracts
What happens when you exchange contracts doesn't need much explanation. You and the seller sign and exchange the contracts, agreeing that you are buying the property.
Before this takes place, you need to make sure you're completely happy with the property. Because once the contracts have been exchanged, you'll pay your deposit and then you're legally obligated to buy the home.
If you're ready to take the leap, there are a couple of things to check before signing:
Make sure you have your offer in writing and take note of how long the offer is valid for. Atom mortgage offers are valid for 6 months
Check your agreed completion date
Read through the entire contract to make sure you're happy with the terms
The big day
Congratulations! You signed on the dotted line and successfully bought your first home. This is a huge accomplishment, especially in the current market, so take a second to bask in the sense of pride you should be feeling having hit such a big milestone.
Once you've negotiated the move-in date with the seller, you can begin preparations for starting your new life in your very own home.
Whether you're ready to start your home-buying journey or you're already in the midst of the process, we hope you've found this guide useful.
Remember, we have first time buyer mortgages that are designed specifically for people like you, and they're only available through independent brokers.
If you need more mortgage information, please visit our mortgage hub, where you'll find more useful guides, and our blog, where you can read the latest insights into the mortgage market.
You may also like
Leasehold vs freehold
A leasehold vs freehold property means you own the property but not the land. Discover the differences and advantages in our guide to property tenures.